Football is back baby! And even though you spent months preparing for your drafts, the final weekend before real football threw a nasty curveball of trades, cuts, and signings into even the best-laid plans. But here at FFStatistics, we live for that very chaos. So each week we are going to take your questions, flush out the data, and answer your Fantasy Football conundrums. If you aren't already following @FFStatistics_ (Shame!), log in, smash that follow button, and look out for our next post asking for your questions. With so many moves after most leagues drafted already lets jump right into the Week 1 Mailbag
Tony Pollard; A Redraft Mulligan
For week 1 and I guess going forward, What do we do with tony pollard in a re draft league? Thanks!

— ebo744 (@Ebo235) September 4, 2019
As the season crept closer and closer without a deal between the Cowboys and Ezekiel Elliott, Tony Pollard's ADP continued to creep up and up out of the double-digit rounds.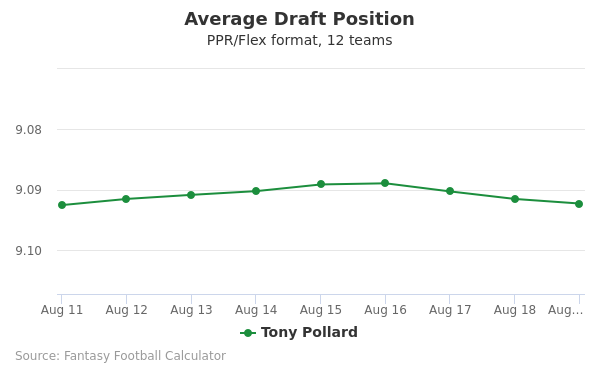 According to Fantasy Football Calculator, Pollard's ADP is in the seventh round. But peaked by getting all the way up into the fifth at 5.09. Now dare I say, he is nothing more than a handcuff. A very expensive handcuff.
Over Elliott's career, his back-ups have, at times, looked good. Rod Smith, in particular, has briefly shined as a pass-catcher.  But when we take a step back from the tree and notice the forest, it's clear to see that, barring a worst-case scenario Pollard no longer holds any real value in Fantasy.
In the three years that Elliott has played in the NFL, he has averaged, averaged, 25 touches-per-game. His lowest was his rookie year in which he averaged 24 touches-per-game. That leaves little to no room for Pollard to accumulate anything for Fantasy. In that same span, the rushers behind him on the depth chart have averaged 5.8 touches-per-game.
Even the season Elliott played in only 10 games due to suspension, the best back not named Elliott, was Rod Smith who was able to finish 50th among RBs in Fantasy. Alfred Morris technically started those games, and he finished 65th in 2017.
If you have an overly cautious Zeke owner in your league try to package Pollard in a trade deal to that owner. If you can't, Pollard becomes the easy cut to go pick-up a high-potential waiver wire add like Albert Wilson.
~Phillip Caldwell @DumpsterDiveFF
Since I can't play Daily Fantasy sports in Washington state, I thought I would toss the next question to our DFS Podcast host, Scott Michaud.
DFS & The Great iPod vs. Zune Debate
Yahoo is finally DFS playable in Florida! I've plagued DK only last few years…put money in Fantasy Draft this year… how do you relate Yahoo to these 2? Yahoo rake comparison? Number of people using DK vs. Yahoo vs. Fantasy Draft..

— Daniel Smith (@gatordan58) September 4, 2019
DraftKings has established itself as one of the premier DFS sites out there. Many view them as the best. But that doesn't mean you have to limit yourself. You asked specifically about Yahoo!, so I'll answer based on my experience there. Imagine DraftKings is like an iPod and Yahoo! is like a Zune. 
In this analogy, DFS is just the product of an mp3 player. DK/Apple has perfected the user experience, but in their dominance, they've lost some of the appeal to fans. They are huge and don't have to cater to individual fans. They've stopped major updates and are just making small tweaks. DK contests are mostly filled and draw a ton of attention. They don't offer a ton of opportunity for small-time players to leverage overlay or contests with no management fee. Apple/DK are beloved just as much for what they represent as for their product: prestige. 
On the other hand, Yahoo!/Microsoft are just large companies getting beat pretty badly in one particular area. They figure, "Hey, we're a large company. Let's throw some money at this and we can be competitive." So even though they are behind in terms of recognition and overall product quality, that doesn't mean they are without their own merits. Yahoo! offers a lot of overlay almost weekly. They also have a lot more small contests added on Sunday, right up until lock. It's a little different, and the pricing is a little more varied than some of the other larger DFS sites. 
My recommendation is to definitely check them out. The pricing is based on a $200 scale, so if you're used to DK, there will be an adjustment period. The contests are typically smaller, with payouts scaled down too. But, the overlay potential is much higher than on the larger sites and chances are you've already got the app downloaded. Throw in some cash, listen to the @DFStatistics podcast, and enjoy the ride.
~Scott Michaud @SMich_5
Follow the Money in Kansas City
How do you foresee the KC RB workload turning out? Unknowingly at draft time,I now have Williams and McCoy on the same team now.

— EjayV (@er1cjv) September 4, 2019
This does not just come down to talent. We have seen many running backs perform in the Reid system including McCoy.It does not really come down to situation either. Backs just produce in this system. (Average RB13 finish for Reid's RB1's)
The answer to this question for me ultimately comes down to two things. Familiarity and money.
First, the familiarity between Andy Reid and LeSean McCoy. These two spent four seasons together in Philidelphia and McCoy flourished with two top-five finishes and another in the inside the Top-20. Reid knows what McCoy is capable of despite the elevated age. Nobody thought that Damien Williams was good until he arrived in KC and Kareem Hunt set himself back in a major way. The system allows for success and even though McCoy looked bad last year, he was only 2 years removed from averaging a career-high  5.4 yards-per-carry. Last season he played with a rookie quarterback with questionable passing skills and a less than exciting group of pass-catchers. Now he has some of the best Fantasy weapons surrounding him, including the coach.
The second part is the money. McCoy was signed to a 1 year, 4 million dollar deal. 3 million of that is guaranteed.  That is more than the other running backs on the team make combined. Not that teams do not waste money but organizations are pretty smart when it comes to how they treat running backs now and the replaceability factor is a known by now. If RBs truly do not matter, and Reid's system demonstrates this as well as any team, then the Chiefs likely would have ridden with the younger, cheaper pieces they already had on the roster. Instead, they went out and grabbed a 30-year-old insurance piece.
My 2019 projected workload (percentage is market share among the running backs only.)
| Player | Touches | MS% | Yards | TDs |
| --- | --- | --- | --- | --- |
| Damien Williams | 187 | 51.02% | 1067 | 11 |
| LeSean McCoy | 144 | 39.23% | 761 | 5 |
| Darwin Thompson | 36 | 9.75% | 187 | 3 |
THANK YOU FOR READING. YOU CAN READ SOME OF MY OTHER WORK AND THOUGHTS ON TWITTER @DumpsterDiveFF. FOLLOW FFSTATISTICS ON TWITTER @FFSTATISTICS_. PLEASE CHECK OUT EVERYTHING THAT FFSTATISTICS HAS TO OFFER. NEW STATISTICS AND DATA ARE BEING ADDED CONSTANTLY. READ MORE FROM ME AS WELL AS OTHER ARTICLES FROM THE FFSTATISTICS WRITING STAFF HERE. LISTEN TO THE FFSTATISTICS FAMILY OF PODCASTS HERE.