T.J. Hockenson: Fantasy Scouting Report
The world of tight ends in the NFL has changed with the implementation of more creative offenses. T.J. Hockenson is a true throwback at the position. Furthermore, I hope by reading this article you will develop a better appreciation of how all-around tight ends still have a place in today's pass-heavy NFL.
T.J. Hockenson: A New School Throwback
Profile
School: Iowa
Height: 6'5
Weight:  250 lbs
D.O.B: 7/3/1997 (age 22)
College Dominator: 25.5%
Breakout Age (BOA): 21
College Background
Three-star recruit and sixth highest recruit in the state of Iowa in the 2016 Hawkeyes recruiting class. Redshirted in 2016. Named co-starter alongside Noah Fant for the Iowa Hawkeyes to start 2017. One of Hockenson's shining moments came in 2017 when the Hawkeyes upset The Ohio State Buckeyes. Hockenson was able to contribute five receptions for 71 yards and two touchdowns.
In 2018, T.J. Hockenson won the Big Ten's tight end of the year award, the Kwalick-Clark Award. Also, Hockenson won the 2018 John Mackey Award Winner (college football's top tight end). He is one of only two Iowa tight ends to win the award, Dallas Clark was the other in 2002.
Tape Talk
Strengths:
Play Strength
This is where Hockenson makes his money. He uses tenacity and aggression when engaging and finishing plays. Hockenson is a tenacious run blocker how has Fights through defenders well to gain extra yardage on receptions. Pass protection is not something we see much from Hockenson since the Iowa scheme primarily puts it's tight ends out on routes. Hockenson's play strength really separated him from his counterpart, Noah Fant, at Iowa and showcased his ability to solve problems in a different way.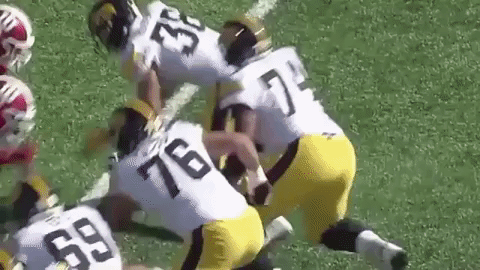 Hands
Hockenson is extremely tough in a crowd, showing strong hands to make contested catches and uses his frame to come down with the ball with little room to move. Has the ability to threaten the seam with his long strides and movement off the line of scrimmage at the snap. Does exceptional work gaining position against opposing defenders by using functional footwork and awareness of how to use his frame. It should be noted, Hockenson is no slouch on his routes and has shown much improvement in this area. Hockenson is a smooth athlete and gets in and out of his breaks quickly to create separation with his routes. Uses his height, length, and strong mits to snatch passes out of the air. Also, can bend his frame well to snatch passes delivered by his feet.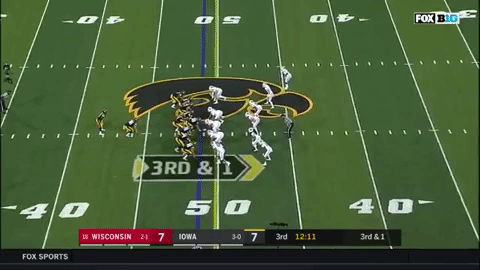 Versatility
There is really no part of the game T.J. Hockenson can't be used. He has enough straight line long speed to create vertical separation, for a big man he can change direction quickly, and there may not be a more aggressive run blocker in the class.
Weaknesses:
Frame
Tall and lean frame. This is not a major concern, but it does need to be addressed. Overall, Hockenson has a complete game which will translate to the next level. My pause, a very small pause, with a prospect like Hockenson is can he develop his body. It is one thing for him to bully defenders in the college game as a run blocker, but can he work on his body and continue to fill out at the next level.
Statistics
Receiving & Rushing Table
Receiving
Rushing
Scrimmage
Year
School
Conf
Class
Pos
G
Rec
Yds
Avg
TD
Att
Yds
Avg
TD
Plays
Yds
Avg
TD
*2017
Iowa
Big Ten
FR
TE
10
24
320
13.3
3
0
0
0
24
320
13.3
3
*2018
Iowa
Big Ten
SO
TE
13
49
760
15.5
6
1
4
4.0
1
50
764
15.3
7
Career
Iowa
73
1080
14.8
9
1
4
4.0
1
74
1084
14.6
10
For all the press Noah Fant gets for his raw counting stats, T.J. Hockenson is better. In fact, in seven fewer games, Hockenson was within five receptions and two receiving yards of Fant, although Fant had ten more touchdowns. Overall, when we look at these raw numbers there isn't a glaring weakness in Hockenson's profile. In an anemic pass offense, which was 44th in the nation, Hockenson was extremely productive.
Developing quickly within the Iowa offense, Hockenson and Fant accounted for over 38% over the Hawkeyes receptions in 2018, 85 total receptions. Hockenson was second on the team with 49 receptions of his own and only three receptions short of wide receiver Nick Easley. Hockenson was had the sixth most receptions by a tight end in 2018.
Ranked 44th in college football in passing yards, the Hawkeyes were not considered a "throw it around the yard" type of team. In fact, they ran the ball effectively and relied on their tight ends to make plays in the passing game. Thus the low receiving totals for both tight ends.
As noted from the plot points above, Hockenson redshirted his freshman year at Iowa and ascended quickly to be Fant's equal in nearly every statistical market share category.
Final Evaluation
Hockenson and Fant could be the first tight ends from the same school to both be drafted in the first two rounds of the NFL Draft in the modern NFL era (since 1970). It is important to note, while Hawkeyes head coach, Kirk Ferentz, once referred to Fant as a "specialist" he shared about Hockenson as having "a good skill set,".  Ferentz went on to say, "more importantly, he's just had a really good work ethic, and he's been patient, and he's worked day after day."
The true beauty of Hockenson's game lies in his ability to be as comfortable in-line blocking as he is being lined up against a linebacker or safety. Hockenson's combination of work ethic and versatility will reward him with playing time early in his career.
Fantasy Valuation
As I mentioned with Hockenson's former team Noah Fant, I tend to "not draft the first year tight end" and "buy the talent on the way down". While Hockenson will likely get to see the field early in his career, he will have a lot to learn to play tight end at the NFL level. Furthermore, he will be working at blocking more than Fant because of how good he is at it and he will need to work more as a receiver because it is the area of his game where he will need to continue developing. I can see the path for Hockenson to develop into a TE1. I don't believe it will happen his rookie year.
In my dynasty rookie drafts, I would take T.J. Hockenson in the middle of the second round of a rookie draft. His combination of likely draft pedigree and ceiling would be alluring.
Thank you for reading. You can read some of my other work and thoughts on Twitter @TimNFL. Follow FFStatistics on Twitter @FFStatistics_. Please check out everything that FFStatistics has to offer. New statistics and data are being added constantly. Read more in my coaching changes series as well as other articles from the FFStatistics writing staff here. Listen to the FFStatistics family of podcasts here.