The 2019 NFL Combine has officially come to a close. We'll take a look at which prospects helped their value, hurt their value, and who showed us what we expected. This article will not go into detail on whether or not NFL Combine metrics should be used to predict fantasy football success. Instead, I want to present to you the best performers, worst performers, and some guys that deserve more of a look based on their current ADP.
We will be using @MathBomb's RAS metrics throughout this article so it's good you understand how to interpret the graphics I'll present. RAS allows you to compare current prospects' measurements and scores with other players at the position from 1987 to the present time. It's a ranking system where 0 is bad, 5 is the score of the average player at the position, and 10 is the 100th percentile. Here's an excerpt from the explanation article, "The final number — the one we actually refer to as the player's RAS — is gained by averaging the individual scores for each player at a position. This raw average is then compared to the raw averages for every other player at the position to come up with the final Relative Athletic Score for a player." Feel free to read the explanation article yourself to gain a better understanding.
Example:

________________________________________________________________________
Final Combine Metrics at Each Position: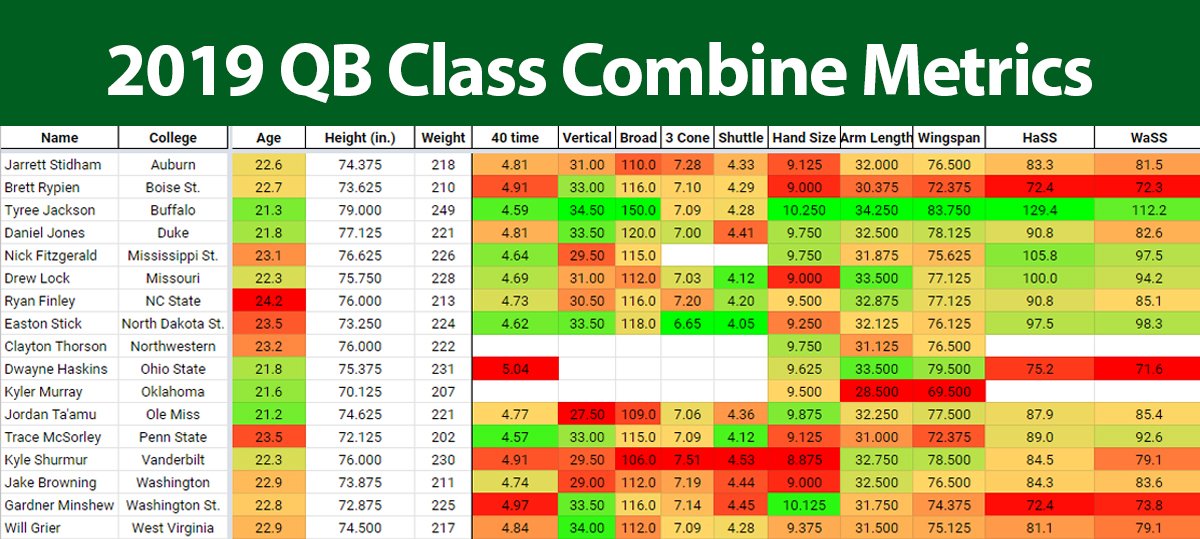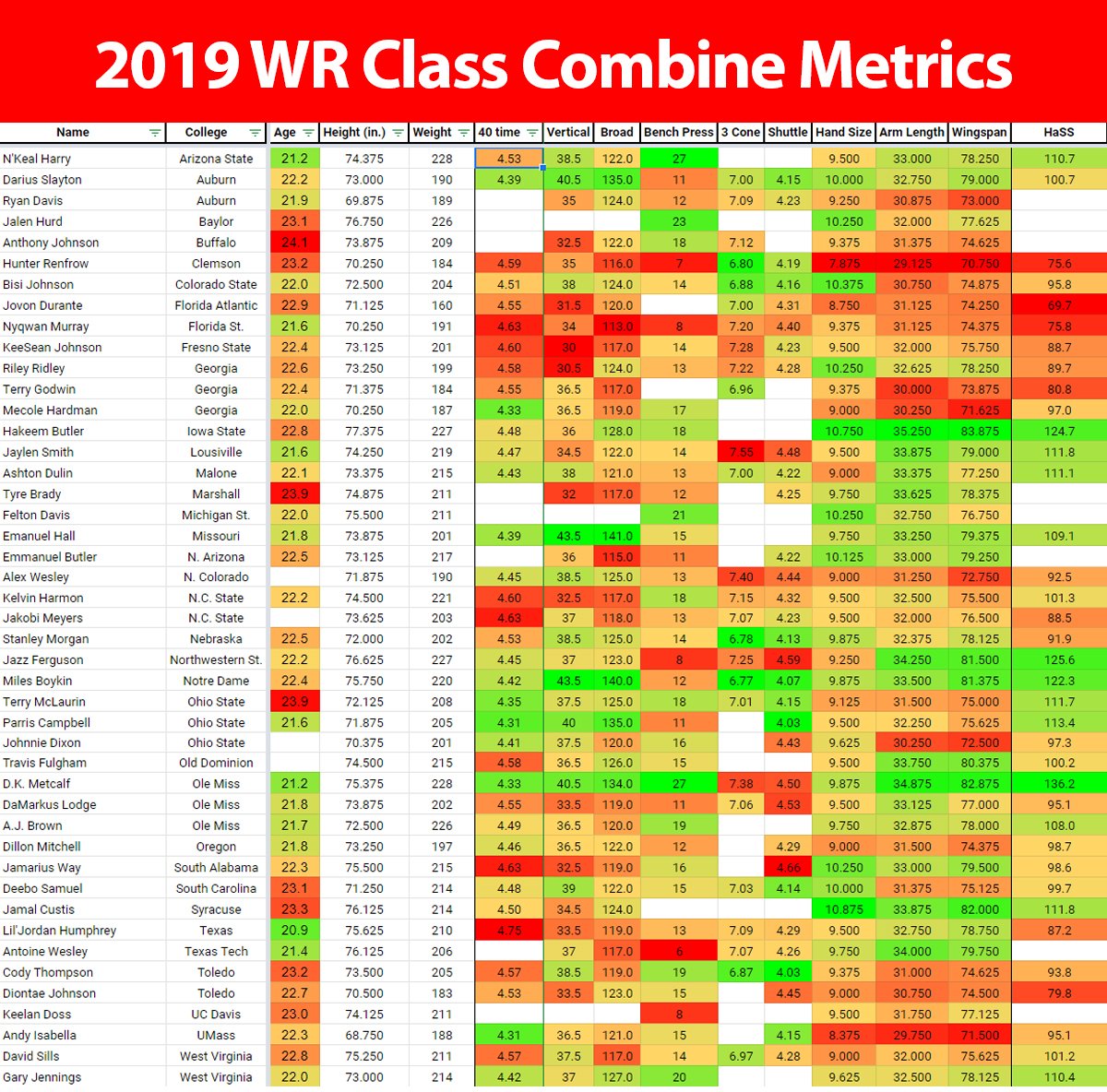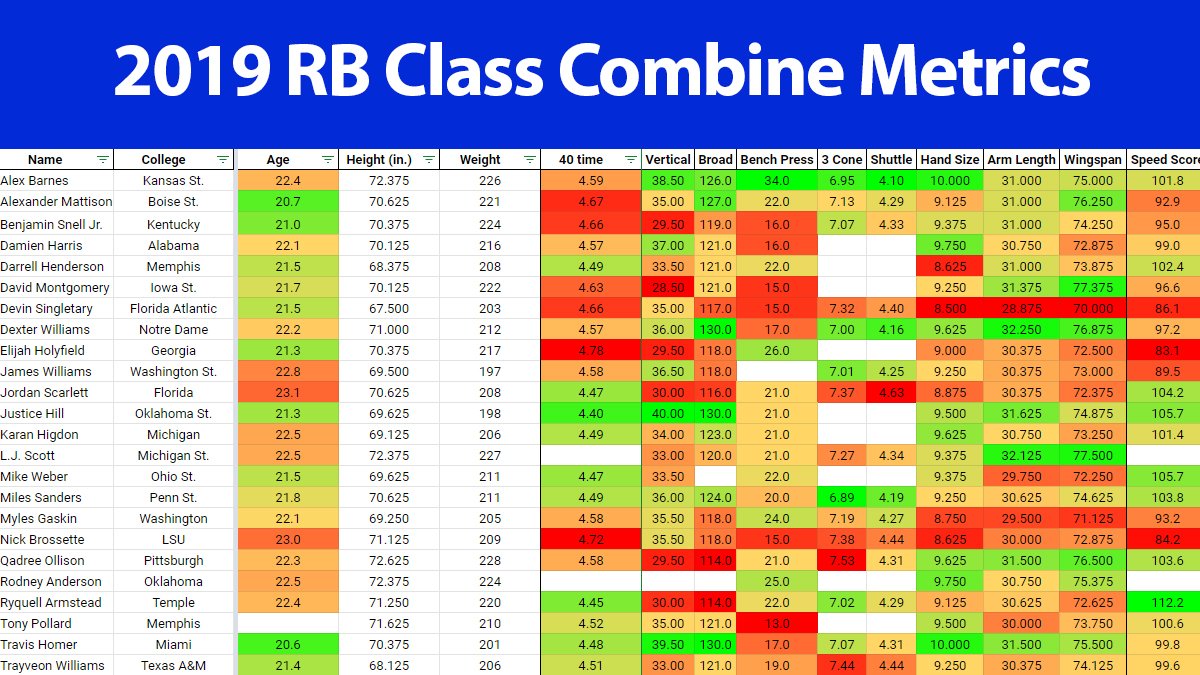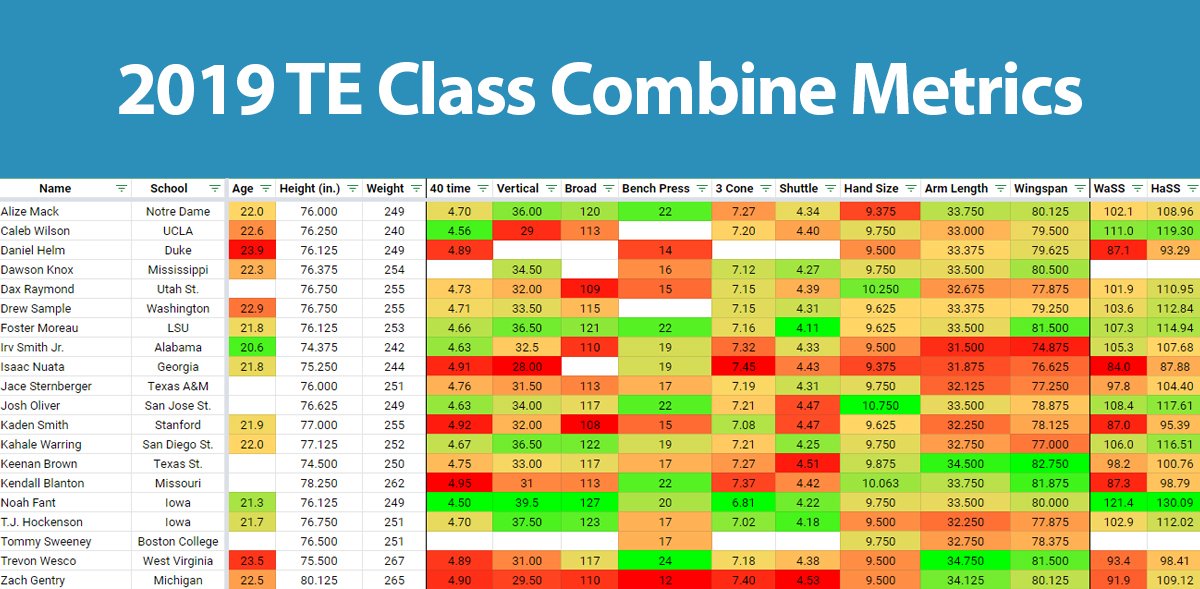 ________________________________________________________________________
Position by Position:
Quarterback
:
Coming into the NFL Combine everyone knew Kyler Murray wouldn't be throwing or participating in the athletic testing, but yet he still seemed to be the talk of Saturday. The fact he decided not to participate in field work was probably the best decision for his draft stock. He's already the topic of conversation so why not wait until you are at your pro day where you're comfortable and throwing to guys you have timing with? Seem like an obvious answer to me. The other consensus "top" quarterbacks, Dwayne Haskins and Drew Lock, had performances on different ends of the spectrum. Lock posted an elite RAS with above average numbers across the board, while Haskins's numbers were below average in the drills he participated in.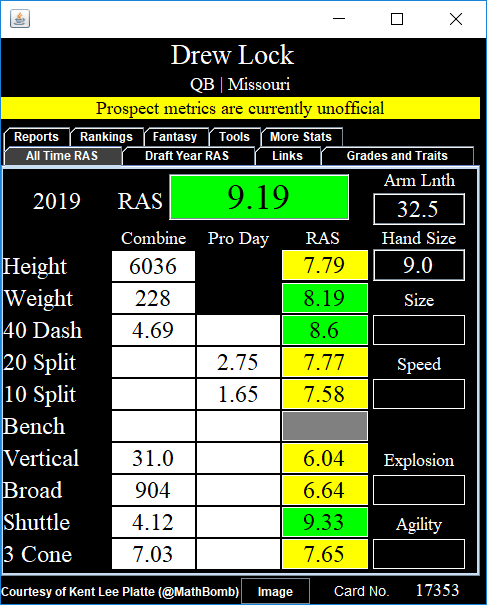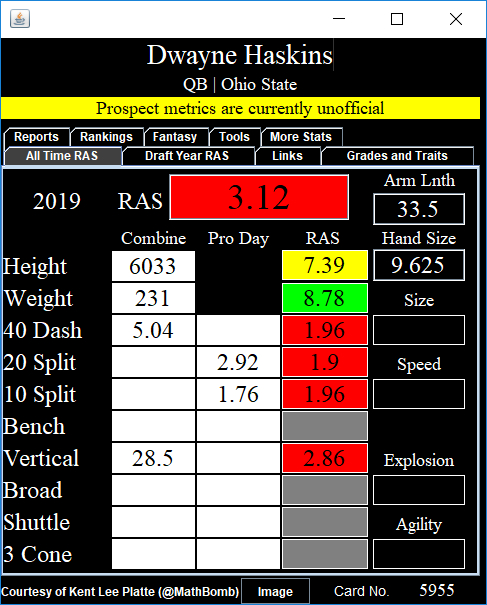 Easton Stick
Easton Stick of North Dakota State is one guy we all need to pay more attention to according to his combine numbers. He posted an elite RAS score in all the drills he participated in with a 3 cone and shuttle score in the 98%+ percentile. His 3-cone time of 6.65 secs is tied for first all time for quarterbacks and better than any wide receiver this year. Maybe this small school guy deserves more chatter?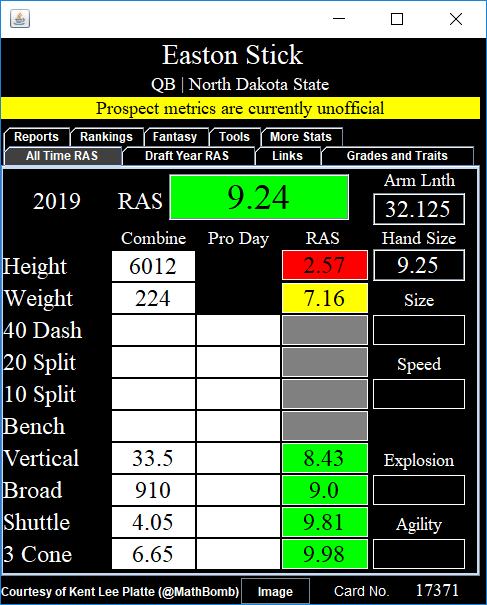 Tyree Jackson
Tyree Jackson from Buffalo is another small school guy that had some great combine numbers. For being 6′ 7″ and 249 lbs. he ran an amazing 4.59 40-yard dash giving him the third best height-adjusted speed score among quarterbacks, wide receivers, and tight ends with a score of 129.4. His on the field work is where he struggled. His delivery mechanics are very inconsistent and he's what I like to call an "unnatural thrower."
Tyree Jackson: 6-7, 249 pounds and ran a 4.59 #Buffalo #NFLCombine pic.twitter.com/quQ0qds63d

— #NobodyDied (@ftbeard_17) March 2, 2019
Running Back:
Justice Hill came into the combine with an ADP ranking of 22, according to ten rookie mock drafts on MyFantasyLeague.com. This put him at RB10 behind guys like Elijah Holyfield, Benny Snell, and Miles Sanders. Hill set the combine on fire as many expected placing first in the 40-yard dash, vertical, and broad jump. As you can see from the RAS graphic below, Hill's numbers were in the elite categories in almost every metric. This should bode well for his draft stock and should make his ADP tick up a couple spots. Unfortunately, Hill hurt himself during testing and wasn't able to take part in the on-the-field drills.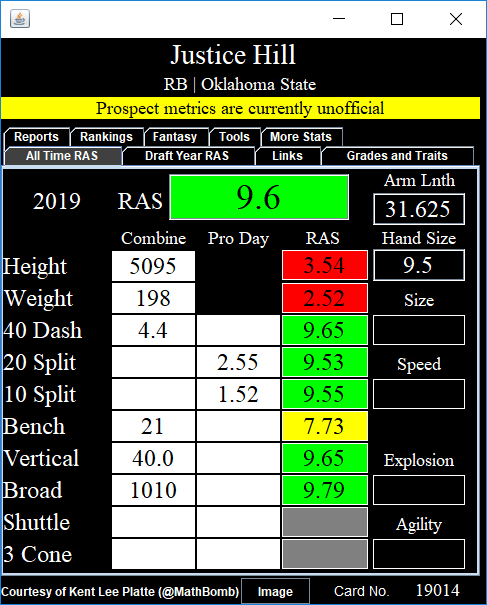 Alex Barnes
Let's talk about Alex Barnes from Kansas State. I will personally be going back to his film to re-evaluate my current ranking. I didn't give him much time in my initial scouting, but all he's done in college and at the combine is produce. As you can see in the graphic below his test results were elite. Outside of the combine, he was one of the top producers in terms of market share last year in college too. His current ADP is undrafted in rookie mocks. This is a guy that definitely deserves more respect than what he's currently getting.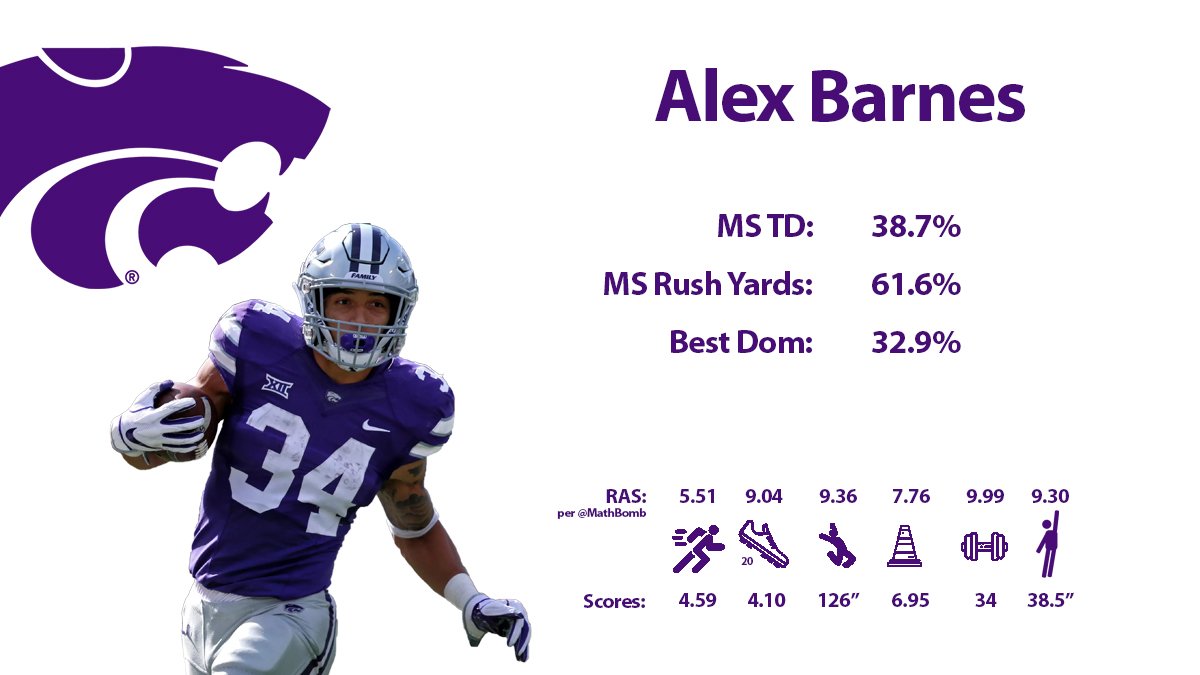 Elijah Holyfield
If we were to point at one running back who hurt his stock, you'd have to point to Elijah Holyfield. He made catching a football look like it was the hardest thing in the world, and looked very stiff in all of the field drills. His testing wasn't any better, see below. Holyfield currently holds the RB9 spot according to MyFantasyLeague mock drafts, which should drop as we approach the NFL Draft.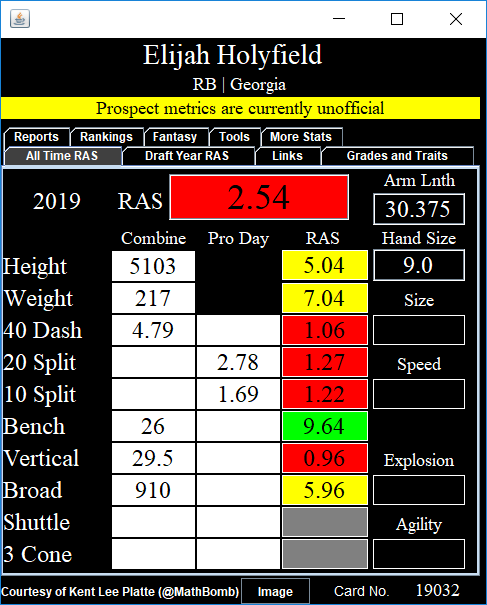 Wide Receivers:
D.K. Metcalf
It would be hard to do an NFL Combine review article and not mention D.K. Metcalf's performance. He started the day blowing up Twitter with his 4.33 forty yard dash time, which was good enough to give him the best height-adjusted speed score among wide receivers by a wide margin of 136.2. However, you can't overlook his TERRIBLE performance in the 3-cone and 20 yard shuttle drills. The RAS graphic below details this in comparison to historical numbers. However you feel about DK's overall performance, it's important to note that his pre-combine stock was predicated on this elite athleticism already.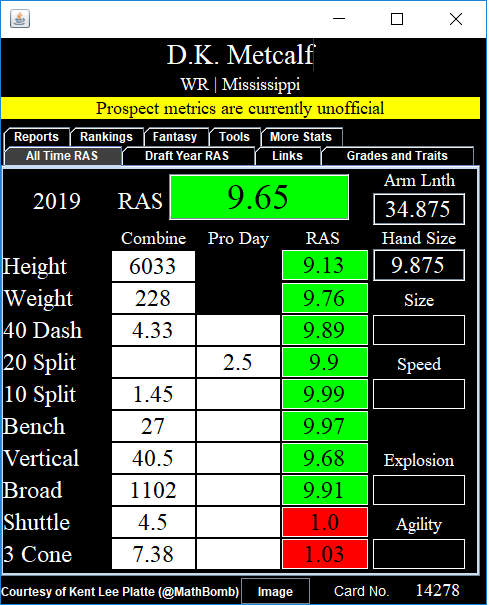 The Ohio State Buckeyes "track team" of Parris Campbell, Johnnie Dixon, and Terry McLaurin showed up and showed out at the NFL Combine. Parris Campbell not only posted the fastest 40 time at 4.31, he also had a 40″ vertical jump, and a 134″ broad jump. These were some of the best numbers in the WR group. Campbell looked great during field drills as well, showing off his hands and his quick breaks in and out of his routes. Parris Campbell is currently going 23rd overall in rookie draft mocks and the 10th WR overall. I wouldn't be surprised to see him start climbing rookie rankings after this combine performance.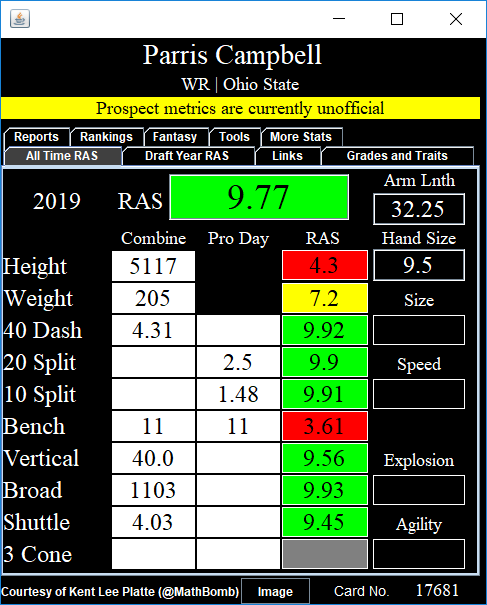 Miles Boykin
A name you may not have heard before the Combine is Notre Dame's Miles Boykin. Miles had one of the best combines EVER for a wide receiver. He posted the second best vertical jump of 43.5″ for a wide receiver in the history of the Combine. He then ran a 4.42 40-yard dash, giving him a height-adjusted speed score of 122.3, 4th best in this wide receiver class. If you take into account Boykin's Combine performance and mix it with his on the field market share values, he definitely deserves more consideration to be one of the top WRs in this class. He had a Dominator Rating last year of 30.4% with a receiving yards market share value of 26%.
After #OleMiss WR D.K. Metcalf's agility tests came in, #NotreDame WR Miles Boykin may be the more apt measurables-based comparison with Julio Jones. pic.twitter.com/TTIpoxx73D

— Evan Silva (@evansilva) March 3, 2019
Emanuel Hall
Another wide receiver with a big day was Missouri's Emanuel Hall. Hall currently sits at 32nd overall in rookie ADP, and this will certainly go up as time goes on. Hall's lack of production last season at Missouri was tied to his soft tissue injuries and the passing of his father. Hall tied Miles Boykin's historical vertical jump of 43.5″, ran a 4.39 forty, and had the second best broad jump in Combine history of 11′ 9″. He's a freak.

Tight End:
The Iowa Hawkeyes came to put on a show at the NFL Combine. Noah Fant lead the charge for Team Hawkeye, with one of the best Combine performances from the tight end position. However, TJ Hockenson was great as well. These two sit firmly at TE1 and TE2 in rookie ADP data with Fant three spots ahead of Hockenson. Below you'll see their side by side RAS data and metrics.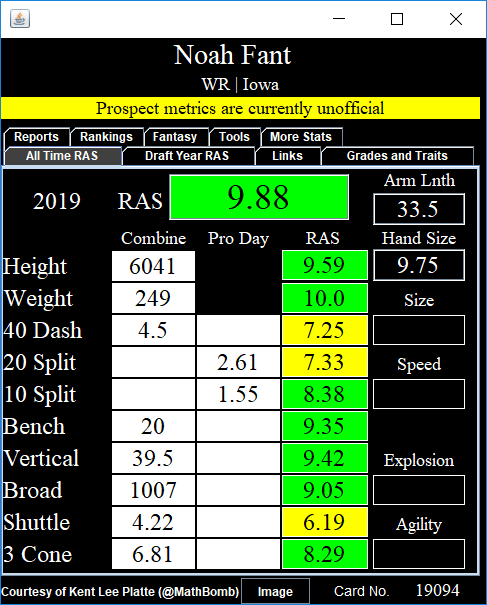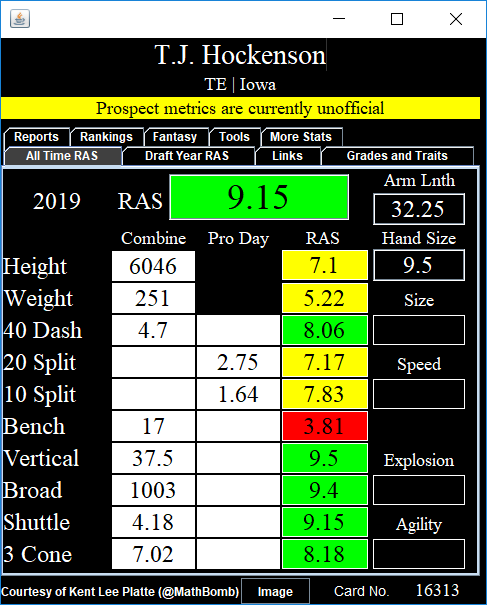 ________________________________________________________________________
Conclusion:
The NFL Combine itself should never be used as a predictor for future fantasy football success. However, the Combine can highlight some red flags in a prospect's profile, or give guys who typically don't get the spotlight an opportunity to show scouts who they are and what they're capable of.
I thank you for taking the time to read through this review. As a gift, I've linked a tweet of mine below where I'm giving out this year's NFL Combine data all in one spreadsheet. I hope you share this with others and add it to your own database.
Full 2019 offensive combine data for you to use and share.https://t.co/XMHjc61etz

— JWack (@JaredWackerlyFF) March 3, 2019