Benny Snell: Fantasy Scouting Report
It is officially rookie draft season!  It's the time of year most of you are scouring through draft articles, videos, and anything else you can get your hands on to give you that edge come draft time in your fantasy football dynasty leagues.  We at FFStatistics plan to give you that edge throughout the offseason leading up to your rookie drafts. In this article, we'll be covering 2019 NFL Draft prospect Benny Snell.
Prospect Profile Series: Benny Snell
The Break Down:
Let's take a look at the attributes you need to assess when considering a running back.
Name: Benjamin Snell Jr.
School: Kentucky
Height: 5' 11"
Weight: 222 lbs.
DOB: 2/27/1998
247Sports Composite score as a high school prospect: 0.8482 (3 stars)
College Background
Snell finished his career as the Kentucky Wildcats all-time leading rusher, breaking the record on the final touchdown run of his career in the Citrus Bowl vs. Penn State on New Year's day.  Snell rushed for over 1,000 yards in three straight seasons in the SEC, a feat you don't see too often in that conference.  He will be a well-known prospect in most dynasty rookie drafts because of this notoriety.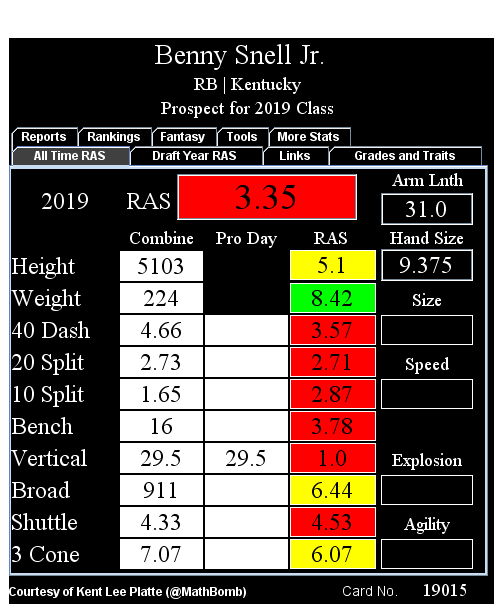 Tape Talk
Vision
Benny Snell's best attribute is undoubtedly his vision.  His ability to find running lanes is special and I would say is up there for tops in this class. He will typically stick with the called play design but is good at seeing cut-back lanes or an opening to the outside if nothing is inside. He's a savvy player that shows the ability to press holes to set up his lineman's blocks, opening space for him to run.  He makes good decisions on where to run and is focused on getting north and south to get the yards he can.  Snell shows off his vision in the clip below — he sees daylight and attacks.
Benny Snell showing off his vision and strength on his way to a touchdown vs. Central Michigan
Patience
A trait that is often hard to find with young running backs is the proper patience needed to let holes develop.  Snell demonstrates good pace when taking the handoff. He shows he has a good understanding of where the defense is going to be after the snap, and he sets them up by slowing his pace while pressing different gaps to put his lineman in better positions to make their blocks.
Burst
Snell's greatest weakness is his lack of a burst.  He takes a while to get going. You typically like to see guys be able to get from 0-100 quick, but his stop-start ability is below average.
Game Speed
Again, as I stated above, his lack of burst and speed is his greatest weakness.  Snell's last recorded 40 yard dash time was a 4.68. This is below average for his position and could make him fall in April's draft.
Balance
Snell didn't show he has great balance when watching his tape.  Often times, tacklers hitting him from awkward angles would bring him to the ground. You'd like to see runners use a hand on the ground, or when their body gets torqued from an awkward angle still have the ability to keep their feet. I didn't see much of that.
Size
Benny Snell is a load.  He is tough to tackle 1 on 1 in a small space, and if you're smaller than him, be prepared to bring your weight because he will try to run through you.  Snell does a nice job of running behind his pads and using his size to his advantage. He understands defenders don't want to tackle him, and he's smart enough to use this to slip arm tackles.
Elusiveness
Given Snell's size, I was surprised to see him earn a 7 in this category.  He doesn't have the side-to-side wiggle or lateral quickness you desire for the next level, but he does display the ability to slip arm tackles. He understands that defenders don't want to tackle him head on because of his size and does a good job setting them up to make them miss.
Benny Snell makes first man miss with a quick twitch spin move vs. South Carolina
Agility
Snell does not have a quick twitch or the lateral quickness you look for from NFL caliber backs.  Even from backs his size in the NFL, you see some ability to make guys miss 1 on 1. His plant and cut ability isn't great, but I'll be interested to see how he tests in the shuttle and 3-cone drill.
Pad Level
Benny Snell shows average bend when running through the hole and prior to contact.  I'd like to see him get a bit lower and it might help him cut a bit quicker. A lot of this has to do with flexibility.  His pad level is good enough, but it could be better.
Power
Snell is a power back who should be used in short yardage and goal line situations to start his NFL career.  Benny runs behind his pads and defenders won't like tackling him for 60 minutes. He seems to like contact and he invites it; it seems to get him going.
Benny Snell running through tackles and carrying defenders vs. Mississippi State
Receiving
He isn't going to wow anyone with his routes, but his hands are formidable enough to stay on the field in passing situations.  He isn't going to be a mismatch for linebackers and most will be able to cover him. I don't see him being anything more than a check down back in the receiving game.
Benny Snell's hands on display vs. Texas A&M
Blocking
Snell is an impressive blocker.  He's good at identifying the blitzer and understanding who he has in protection.  Kentucky kept him on the field in most passing situations and he wasn't afraid to step up and make a block or cut the defender down to open passing lanes.  However, he blocks with his pads instead of thrusting his hands. He'll need to work on his overall technique in the NFL.
Summary:
Snell has the size and toughness to play at the next level.  What really stood out to me was his persistence and attitude.  His team really looked to him as the leader and they rode him to victory many times.  He shows a passion and love for the game that is infectious to a locker room. He is a very fundamentally sound player that doesn't make many mistakes.  His overall athleticism will limit him at the next level. Where he lands will be very important. If he lands somewhere that will use him properly in a power run scheme, I think he can find some success.
Dynasty Draft Projection (12 teams):
2.6-2.12
As of right now, I see Snell falling to the 4th or 5th round in the NFL Draft due to his lack of speed and burst.  You either love or you hate Snell.  He's a well known prospect, so I wouldn't expect his ADP to fall past the second round.