N'Keal Harry: Fantasy Scouting Report
It's officially rookie draft season! It's the time of year most of you are scouring through draft articles, videos, and anything else you can get your hands on to give you that edge comes draft time in your fantasy football dynasty leagues. We at FFStatistics plan to give you that edge throughout the offseason leading up to your rookie drafts. In this article, we'll be covering 2019 NFL Draft prospect N'Keal Harry.
Prospect Profile Series: N'Keal Harry
The Break Down:
Name: N'Keal Harry
School: Arizona State
Height: 6′ 4″
Weight: 216 lbs.
DOB: 12/17/1997
247Sports Composite score as a high school prospect: 0.9736 — 4 Stars — 53rd overall — 7th WR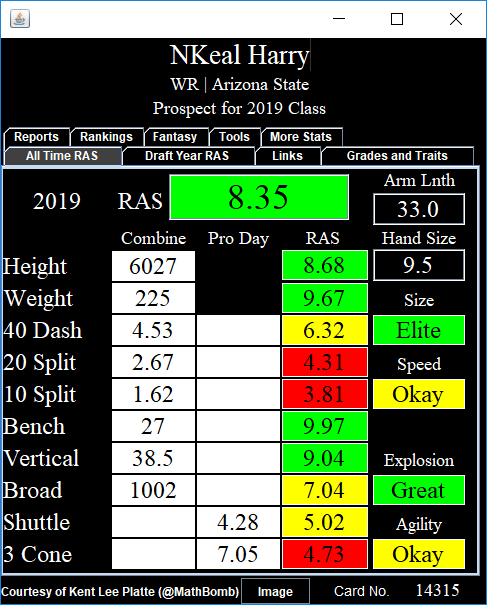 Tape Talk
Route Running
N'Keal Harry wasn't asked to run a wide variety of routes at Arizona State.  If they were passing you could assume he was running either a hitch, comeback, goal line fade or the go route.  His routes often lack the sudden change of direction and burst you'd like to see from an NFL receiver.  Aside from his lack of burst, Harry displays savvy technical skills.  He displays impressive footwork, body positioning, and hand fighting — which are key components to getting open at the next level.  In the GIF below you see Harry running a seven-yard hitch (of course).  This clip shows off his quick feet and the ability to drop his hips.  It can be hard for bigger guys like Harry to drop their hips on sharp breaking routes like this, so this is definitely a positive highlight. Though, the quarterback was late on the throw.
Hands
N'Keal's hands are some of the best I've seen from this wide receiver class. His film is littered with catches you wouldn't expect someone to make, but every now and then he seems to lose focus and drops easy balls you would expect him to catch.  He also has a tendency to let the ball get into his body when it shouldn't.  I think he still has room to improve in this category, but his ceiling is very high.
Contested Catch
One of N'Keal's best attributes is his ability to make catches in traffic.  He uses his size and frame to his advantage and absorbs contact throughout the catch and typically comes down with the football.  Corners in the NFL are bigger, faster, and stronger so the fact he is so physically dominant at the point of attack is a positive you would expect to carry over.  In the clip below, Harry struggles to beat the press, but he makes a great adjustment to the ball and displays his strong hands while fighting through contact.
Release
Harry will need to improve his move set when being pressed at the line.  He shows off a good move sporadically, but too often he relies on sheer strength to win and that won't translate well at the next level. Corners in the NFL are too technically sound to just be out muscled. The clip above demonstrates poor technique, but the clip below is a preview into his potential.  This is definitely an area most receivers struggle within their first year, but it's an area that can be taught and refined.
YAC (yards after catch) / Playmaking
N'Keal amazes me with his ability to make guys miss in the open field at his size and stature.  First off, he's very tough to bring down — he runs strong.  Secondly, when defensive backs are sizing him up to come in at the right angle, he's good at making a quick move to throw that angle off and shaking off their tackle attempt.  The ability to create your own yards is a coveted trait NFL scouts love to see.  The reason he didn't reach an eight in my scoring system is that he lacks that top-end speed and stop-start burst.  Below is a clip the displays both his YAC and playmaking ability.
Physicality / Blocking
N'Keal Harry is a big and physical receiver at 6′ 4″ 216 lbs., and I think he might be even bigger than what his weight is currently listed at.  We'll see where he comes in at the combine.  It can be hit or miss whether he imposes his will on the smaller defensive backs, but when he does it's a huge mismatch.  I would like to see him become a more consistent blocker.  Often times, he looks either uninterested or is unaware of which defender to take on.  When receivers block, big plays happen.  The GIF below is a great example of his potential as a blocker.
Body Control / Catch Radius / High Point
Harry's body control is one of his better attributes.  His ability to adjust to poor throws was needed too often with Manny Wilkins as his quarterback at Arizona State.  When you combine his ability to adjust to the ball and his large frame, it gives him a very large catch radius.  The windows for throws in the NFL are very small. If a quarterback can rely on the receiver to go up and make plays when throwing windows look closed, it completely elevates an offense's potential.  In the clip below, you see the body torque and adjustment to the football on a fade route.
Game Speed / Burst / Agility
Unfortunately, Harry lacks great speed.  He isn't going to take the top off the defense or beat anyone deep.  He'll need to rely on his ball skills and frame to win.  This was the knock on him coming out of high school, and it's the same trait holding him back from being the next Julio Jones type receiver.  He does display some good footwork and short area quickness, but his burst and speed are definitely lacking.
Summary:
N'Keal Harry is definitely one of the most physically gifted receivers in this draft.  Harry is a flawed technician with extremely impressive god given talents you can't teach.  Harry's ceiling is very high, but he'll need one or two years before he starts making an impact at the next level.  He'll need to improve against the press and developing his route running.  I think N'Keal will be taken in the 2nd or 3rd round of the NFL Draft.
THANK YOU FOR READING. YOU CAN READ SOME OF MY OTHER WORK AND THOUGHTS ON TWITTER @JAREDWACKERLYFF. FOLLOW FFSTATISTICS ON TWITTER @FFSTATISTICS_.  PLEASE CHECK OUT EVERYTHING THAT FFSTATISTICS HAS TO OFFER.  FIND MORE OF MY PROSPECT BREAKDOWNS AND OTHER ARTICLES FROM THE FFSTATISTICS WRITING STAFF HERE.  LISTEN TO THE FFSTATISTICS FAMILY OF PODCASTS HERE. STAY TUNED FOR MY NEXT PROSPECT PROFILE!