Prospect Profile Series: Miles Sanders
It's officially rookie draft season! It's the time of year most of you are scouring through draft articles, videos, and anything else you can get your hands on to give you that edge comes draft time in your fantasy football dynasty leagues. We at FFStatistics plan to give you that edge throughout the off-season leading up to your rookie drafts. In this article, we'll be covering 2019 NFL Draft prospect Miles Sanders.
Miles Sanders | RB | Penn State
The Break Down:
Name: Miles Sanders
School: Penn State
Hometown: Pittsburgh, PA (Woodland Hills High School)
Height: 5'11"
Weight: 224 lbs.
DOB: 5/1/1997
247Sports Composite Score (high school):0.9865 | 5 stars | 1st RB | 21st overall
Best Dominator Rating: 19.6%
Breakout Age: 21
College Background:
There was never a question of where Miles Sanders would be attending college.  Sanders committed to Penn State before the start of his junior season of high school at Woodland Hills in Pittsburgh, PA.  However, when Sanders arrived, there was this other running back gaining more and more national attention by the name of Saquon Barkley.  Sanders didn't see much opportunity in his freshman and sophomore seasons while behind Barkley on the depth chart, but he did gain some valuable experience.  "It just made me work harder," Sanders said. "Ultimately, it made me better. I was able to just learn from Saquon and pick little things from his brain."
Miles finished his junior year, which was his first season as Penn State's featured back, rushing for 1,274 yards and 9 touchdowns on 220 attempts.  He averaged 16.9 carries a game and 5.8 yards-per-carry.  Penn State liked to use Sanders in the passing game too, targeting him on 10% of their throws resulting in 24 catches for 139 yards.   Miles was named the team's Most Valuable Offensive Player, voted on by his teammates.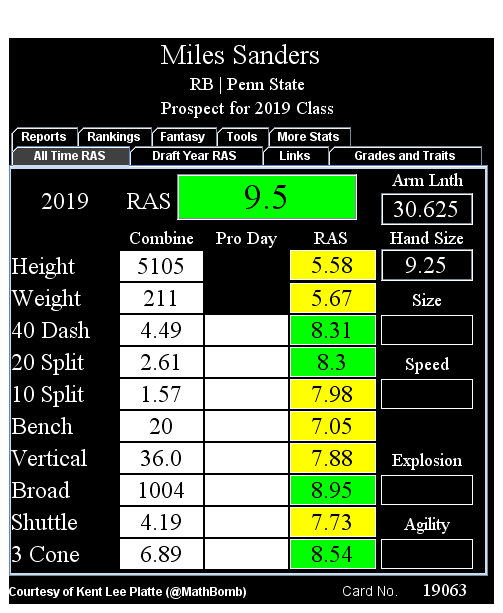 Tale of the Tape:
Elusiveness
One thing that jumped out to me when watching Miles Sanders's film was his ability to make the first man miss.  Time and time again, I saw the first defender that attempted to tackle Sanders whiff. He has one of the best jump cuts in this class.   It's almost as if he learned a thing or two from his good friend Saquon Barkley.  Being able to make guys miss helps the offense avoid negative situations and creates more explosive plays.  On top of his "wiggle" — Miles routinely breaks through arm tackles, showing off a strong lower body.  Below is a GIF of Miles's best run of the season vs. Michigan State — showing off his elusiveness on his way to a touchdown.
Strength/Power
When Miles first arrived at Penn State, his first taste of Saquon came in the weight room where he witnessed Barkley warming up with his max-out weight.  He quickly realized where he needed to improve and that he did. From his freshman year to his sophomore year, he added 19 lbs. to his frame.  You see the leg drive and strength Miles possesses when you watch his game film.  His ability to fight through tackles and get first downs is one of his best assets.  He was third among Big 10 running backs in yards after contact per attempt with 3.85 yards, and he totaled 846 yards after contact on the season per @PFF_College.    In the GIF below, Miles shows off his leg drive by dragging a defensive back for 10 yards.
I'd like to see him translate his strength into his pass blocking.  He needs to work on delivering the blow instead of catching at the point of attack.  I noticed at times he didn't meet the defender at the LOS and was run back into the quarterback's lap.
Receiving
Penn State ran Miles Sanders on routes out of the backfield on the majority of their pass plays.  Though, he was only targeted on 10% of their pass plays — he showed a natural ability to catch the ball which is important at the next level.  However, he will need to work on his route running abilities, at times his routes looked lackadaisical and a bit sloppy.  Below's clip does a good job of showing you Miles's hands and his natural catching ability.
Projections:
NFL Outlook
As it currently sits, Miles Sanders should be a day two or day three pick.  He's being projected somewhere between the third and fourth round.  It isn't likely Miles will come in and contribute right away. However, if called upon next year, I'm confident he can help a team win games.  Like quite a few other backs in this class, Miles is a guy you can leave in on third down because of his pass catching and blocking abilities.
Dynasty Foresight
As of February, Miles Sanders is the ninth running back off the board and the 19th overall rookie taken according to DynastyLeagueFootball's February ADP (ten rookie mocks).  Assuming a twelve team league, that puts Sanders toward the middle/end of the second round.  I believe his current ADP value is a tad low being he's the ninth running back being drafted.  If you are able to take him past the middle of the second round I think you are getting good value with your pick.
Thank you for reading. You can read some of my other work and thoughts on Twitter @JaredWackerlyFF. Follow FFStatistics on Twitter @FFStatistics_.  Please check out everything that FFStatistics has to offer.  Find more of my Prospect Breakdowns and other articles from the FFStatistics writing staff here.  Listen to the FFStatistics family of podcasts here. Stay tuned for my next Prospect Profile!