Noah Fant: Fantasy Scouting Report
Recently, the Iowa Hawkeyes have been turning into "Tight End U". The Hawkeyes have recently produced tight ends Dallas Clark (2003), Scott Chandler (2007), C.J. Fiedorowicz (2014), and George Kittle (2017). Their proud lineage of tight ends continues on in 2019 with Noah Fant and T.J. Hockenson. In this report, I will be going over Fant.
Noah Fant: The next George Kittle?
Profile
School: Iowa
Height: 6'5
Weight:  251 lbs
D.O.B: 11/20/1997 (age 21)
College Dominator: 27.2%
Breakout Age (BOA): 19
College Background
Fant came into Iowa as a three-star recruit out of Omaha South Magnet High School. At the time, Fant had 13 college offers, but only visited and ultimately committed to Iowa. Fant was a multi-sport athlete in high school, playing both basketball and competing in track (sprints, high jump, and triple jump).
Fant's college career was filled with drama. First off, on the same day Fant sustained a concussion against Minnesota, his brother tweeted displeasure about the coach's use of Fant on the field. Secondly, Fant's coach later came out and used the word "specialist" as a description of his game. Also, in 2017 Fant was held up in a park by a man and asked to leave.
Tape Talk
Strengths:
Play Speed
Fant may be one of the best overall athletes in this draft class and a true mismatch on the field. Vertically, he has the ability to gain separation immediately on his first step and will eat a defender's cushion up quickly. Throughout Fant's routes, he does not lose speed when changing his direction. In a man to man scheme where he is lined up against a linebacker, Fant has the ability to get deep quickly. In zone concepts, Fant is able to win with his initial acceleration and can find soft spots in the coverage.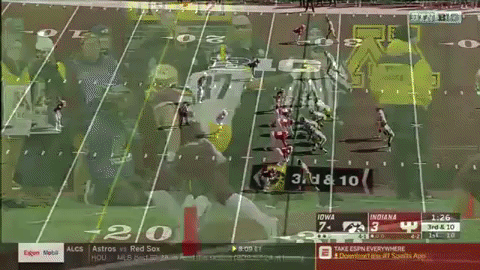 Hands/Ball Skills
Though the reception totals are not gaudy, Fant has above average hands. He also has the ability to make routine catches and make the high-difficulty level catches look routine. So what makes Fant stand out from the crowd? Most noteworthy, his contested catch and jump ball ability. Fant displays excellent spacial awareness to use his frame and shield the incoming pass from defenders. Fant's jump ball ability could be correlated to his vertical testing at Iowa (42.1 inches). This data point combined with Fant's exceptional body control sheds light on his ability to sky over defenders and be a fantastic red zone target.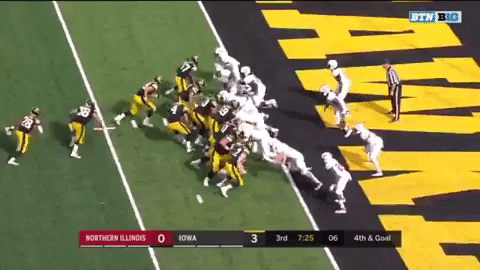 Weaknesses
Play Strength
Similar to many athletic tight ends before him, Fant finds himself relying on the flashy plays and has not yet developed his game in the trenches. Saying Fant cannot block is inaccurate. In fact, he plays inline and at h-back frequently in the Hawkeye's system and is functional overall in the run game. Where Fant lacks true difference-making ability, like the rest of his game, is in the point of attack. He also does not deliver a strong initial punch to his defender.
Statistics
Receiving & Rushing Table
Receiving
Rushing
Scrimmage
Year
School
Conf
Class
Pos
G
Rec
Yds
Avg
TD
Att
Yds
Avg
TD
Plays
Yds
Avg
TD
*2016
Iowa
Big Ten
FR
TE
6
9
70
7.8
1
–
–
–
9
70
7.8
1
*2017
Iowa
Big Ten
SO
TE
12
30
494
16.5
11
2
-1
-0.5
0
32
493
15.4
11
*2018
Iowa
Big Ten
JR
TE
12
39
518
13.3
7
2
1
0.5
0
41
519
12.7
7
Career
Iowa
78
1082
13.9
19
4
–
0.0
0
82
1082
13.2
19
To summarize, in 2017 Fant led the nation for touchdowns by a tight end with 11 and led the nation in yards per catch, averaging 16.5. Fant's 11 touchdown receptions also set a Hawkeye's record for touchdown catches by a tight end. Overall, Fant's 19 touchdown receptions are the most ever by a Hawkeyes tight end and he ranks fourth in school history. He also ranks third best all-time among Big Ten tight ends.
Fant started producing, to some level, in his age 18 season and continued to build on a strong start. While many will muse about how much better Hockenson is, I would argue Fant did more and at a younger age.
Ranked 44th in college football in passing yards, the Hawkeyes were not considered a "throw it around the yard" type of team. In fact, they ran the ball effectively and relied on their tight ends to make plays in the passing game. Thus the low receiving totals for both tight ends.
The market share of touchdowns is impressive but even more impressive is how young Fant was when he produced those touchdowns. This level of production almost forces us to view Fant as more of a receiver than a tight end. Projected to go on day 1 of the draft, Fant's early age success is similar to players like Larry Fitzgerald, Braylon Edwards, Calvin Johnson, Dez Bryant, and Demaryius Thomas.
Final Evaluation
Noah Fant's versatility may be exactly what gets him on the field immediately. He is a functional blocker and will be an immediate impact in the receiving game. Additionally, Fant played all over the formation for the Hawkeyes. For example, he would routinely play inline, at h-back, go in motion, and outside on an island. With the NFL passing more than ever, Fant has the opportunity to be the next young star tight end. No matter where he lands, Fant will likely make a substantial impact early on.
There may be prospect evaluators out there saying Fant was the second best tight end on his team. However, even if you believe those comments, I would say we cannot refute the upside Fant brings.
Fantasy Valuation
As a rule, I tend to "not draft the first year tight end" and "buy the talent on the way down". Similarly, the rookie tight end position is always such a risky proposition no matter what the profile looks like. However, Fant has the physical tools and skillset combination to be ELITE at the next level and his upside is too tantalizing to ignore. Currently, Fant is projected to be a late first-round rookie pick in dynasty rookie drafts and will likely go slightly higher in tight end premium formats. Consequently, I am willing to invest in Noah Fant in most of my leagues.
Thank you for reading. You can read some of my other work and thoughts on Twitter @TimNFL. Follow FFStatistics on Twitter @FFStatistics_. Please check out everything that FFStatistics has to offer. New statistics and data are being added constantly. Read more in my coaching changes series as well as other articles from the FFStatistics writing staff here. Listen to the FFStatistics family of podcasts here.