Deebo Samuel: Fantasy Scouting Report
It's officially rookie draft season! It's the time of year most of you are scouring through draft articles, videos, and anything else you can get your hands on to give you that edge comes draft time in your fantasy football dynasty leagues. We at FFStatistics plan to give you that edge throughout the off-season leading up to your rookie drafts. In this article, we'll be covering 2019 NFL Draft prospect Deebo Samuel.
Deebo Samuel | WR | South Carolina
The Break Down:
Name: Deebo Samuel
School: South Carolina
Hometown: Inman, S.C. (Chapman High School)
Height: 5′ 11″
Weight: 216 lbs.
DOB: 1/15/1996
247Sports Composite Score (high school):  2014 class | 0.8482 | 3 stars | 112th WR
Best Dominator Rating: 29.6%
Breakout Age: 20
College Background:
Tyshun Samuel, or better known as "Deebo" Samuel was a standout receiver at South Carolina this past season.  Growing up in South Carolina, he always told his family he wanted play football on TV someday.  South Carolina gave him that opportunity when they offered him a scholarship.  The only other contending offer (8 other offers) was from North Carolina, but Deebo decided to stay in his home state and play for the Gamecocks.
Deebo had a rough start to his college career.  In the opening game in his redshirt freshman season, he tweaked his hamstring versus North Carolina.  He tried to play through it in the next two contests, but it only made things worse — he then sat out the next seven games.  Deebo "broke out" in his redshirt sophomore season (2016) despite playing in only ten games.  He was tied for first on the team in rushing touchdowns with six, and compiled 783 yards receiving with one touchdown.  He missed three games in the middle of the season due to hamstring issues again.
Deebo's redshirt junior season was again cut short by injury when he broke his leg in the third quarter versus Kentucky.  Despite only playing in three games that season, he was tied for the team lead with six total touchdowns.  Samuel was finally healthy for an entire season his senior year.  He didn't disappoint the South Carolina fans, earning team MVP honors, first-team All-SEC all-purpose performer and as a return specialist, and second-team All-SEC at wide receiver.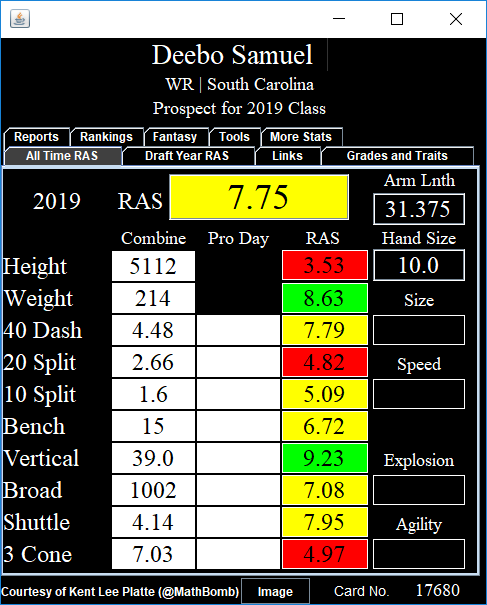 Tale of the Tape:
Route Running
Deebo Samuel's greatest strengths are his explosiveness and his agile lateral movement.  These traits play a large part in being a good route runner.  Defenders have a tough time pressing Deebo and often fail to defend him in man-t0-man situations.  He excels with quick breaking routes that require him to set his defender up with a move and go the other way.  His stop-start ability is excellent and helps him gain separation from defenders. The GIF below versus Clemson is a perfect example of him stepping on the toes of the defender and breaking free after a nice move at the break of the post route. He then shows off his speed to win for a touchdown.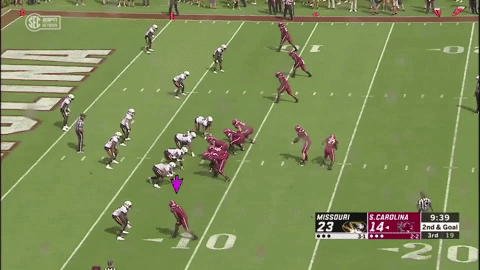 Explosiveness | Acceleration
Deebo's ability to explode after he gets the ball is special.  He turns into a running back after he catches the ball, getting north and south, dropping his pad level, and finding space to run.  His explosive ability shows up time and time again when watching his tape.  You want your receivers to be able to accelerate and explode from the line of scrimmage, in and out of their breaks, and for yards after the catch — Deebo is exactly that kind of player. His acceleration is on full display in the clip below, returning a kick against NC State.
Playmaking | YAC
Deebo has wiggle, speed, and power — making Deebo a YAC king.  Samuel looks like a man on a mission to score every time he touches the ball.  According to @PFF_College, Deebo Samuel had some of the most missed tackles forced with 21 among wide receivers.  In the clip below you see his ability to slip tackles and make defenders miss.  He makes highlight plays like this consistently on tape.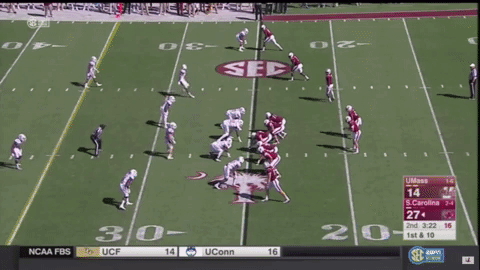 Projections:
NFL Outlook
Deebo's skill set suits him perfectly for a slot role in an NFL offense.  His tape shows he's one of the best playmakers in this wide receiver class.  Samuel's biggest drawback is his ability to stay healthy.  His first three seasons in college were plagued with leg injuries: two pulled hamstrings and one broken leg.  Soft tissue injuries are definitely a concern.  I expect Deebo to be taken on day two of the NFL Draft, most likely in the third round.
Dynasty Foresight
DynastyLeagueFootball's February rookie ADP has Deebo going at the beginning of the second round in a twelve man league.  He is the eighth wide receiver off the board.  I believe this is the proper valuation on Deebo at this point in the process.  Most noteworthy, he's a high ceiling guy who should be a great weapon in the red zone.  Final evaluations will be made when his team is decided at the NFL Draft.
Thank you for reading. You can read some of my other work and thoughts on Twitter @JaredWackerlyFF. Follow FFStatistics on Twitter @FFStatistics_.  Please check out everything that FFStatistics has to offer.  Find more of my Prospect Breakdowns and other articles from the FFStatistics writing staff here.  Listen to the FFStatistics family of podcasts here. Stay tuned for my next Prospect Profile!