J.J. Arcega-Whiteside: Fantasy Scouting Report
It's officially rookie draft season! It's the time of year most of you are scouring through draft articles, videos, and anything else you can get your hands on to give you that edge comes draft time in your fantasy football dynasty leagues. We at FFStatistics plan to give you that edge throughout the off-season leading up to your rookie drafts. In this article, we'll be covering 2019 NFL Draft prospect J.J. Arcega-Whiteside.
J.J. Arcega-Whiteside | WR | Stanford
The Break Down:
Name: J.J. Arcega-Whiteside (JJAW)
School: Stanford
Hometown: Inman, S.C. (Dorman High School)
Height: 6'3″
Weight: 225 lbs.
DOB: 12/31/1996
247Sports Composite Score (high school):  0.8624 | 3 stars | 73rd WR
Best Dominator Rating: 39%
Breakout Age: 19
_________________________________________________________________
College Background:
You want to talk about an athletic pedigree?  J.J. Arcega-Whiteside has exactly that.  His mother and father both played pro basketball overseas in Spain.  Both of his uncles played basketball in the Olympics for Spain.  He also had cousins who were division one athletes.  J.J. himself was an all-state athlete in three sports in high school: track, football, and basketball.  It makes sense that he was a McDonald's All American nominee in basketball, his basketball skills are evident on the football field.  He's second in school history at Stanford in touchdown receptions.  They loved using "JJAW" in the red zone in jump ball situations, utilizing his frame and box-out technique.
During his senior season JJAW owned a 48% market share of Stanford's touchdown receptions, good enough for ninth best in the country.  The rest of Stanford's pass catchers were only scoring 4.5% of the time!  Nearly 15% of his targets were touchdowns in 2018.  The graph below (thanks to @theDude_Z's awesome tool at http://www.zenoismy.name/) displays JJ's market share of Stanford's receiving yards by age, as it compares to others in this wide receiver class.  As you can see, he is in good company and has given us the production we'd like to see from a top receiver in college.
| Player | Year | MS Rec Yards | MS Rec TD | Dominator Rating |
| --- | --- | --- | --- | --- |
| JJ Arcega-Whiteside | 2016 | 18.43% | 33.33% | 25.88% |
| JJ Arcega-Whiteside | 2017 | 29.95% | 39.13% | 34.54% |
| JJ Arcega-Whiteside | 2018 | 29.83% | 49.28% | 39.05% |
_________________________________________________________________
Tale of the Tape:
Hands
When breaking down a wide receiver's film, I always like to pay close attention to HOW they catch the football — not IF they catch the football.  JJ Arcega-Whiteside is the definition of a "hands catcher" as he always seems to pluck the ball from the air and away from his body.  He displays strength in his hands at the catch point and does not allow the ball to be dislodged.  He is very long at 6'3″ with a 79.875″ wingspan (7th at the combine) giving him an edge over smaller defensive backs, and his catch radius gives quarterbacks a large area to throw to.  The GIF below displays this "hands catching" ability I discuss.  Having reliable hands as a receiver is of course extremely important.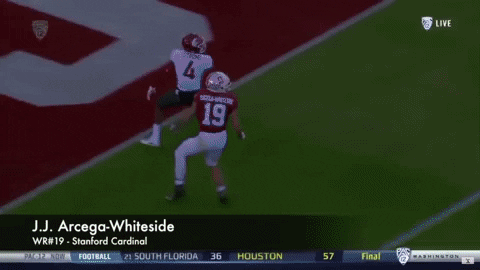 Footwork / Route Running
JJ Arcega-Whiteside doesn't "wow" you with explosive athleticism, but his refined skill and attention to detail are where he's able to win.  JJ is able to beat defenders off the line of scrimmage or at the top of his routes with fast and deliberate feet.  He is a technician with his footwork and it allows him to separate in a different way.  I like when guys are able to win with the technical skills at a young age because it shows they are a worker who likes the process.  You can see examples in my two tweets below of his footwork and ability to beat the press.  However, JJAW's route tree was a bit limited in college.  He will need to become more fluid with his movements at the next level — he's currently a bit too robotic.
You can tell JJAW loves the ladder pic.twitter.com/3Qf6Rs8LMc

— JWack (@JaredWackerlyFF) March 6, 2019
Jump Ball
JJ Arcega-Whiteside is the best "jump ball" receiver in this draft class.   He shows off his basketball skills on the football field repeatedly when you turn on his tape.  Like we went over before, his touchdown market share numbers are off the charts, and it has a lot to do with his ability to win at the point of attack.  His ball skills are his best asset which will make him a great possession receiver at the next level.  The GIF below runs through a few clips I put together to display his contested catch and jump ball ability.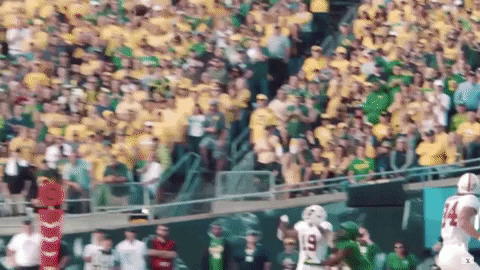 _________________________________________________________________
Projections:
NFL Outlook
JJ Arcega-Whiteside will most likely fall to round three or four of the NFL Draft.  He doesn't have that elite explosiveness to put fear in defenders in the NFL.  He does check out to be a very safe pick who should be ready to be plugged in right away as an X receiver.  His floor is safe, but his ceiling is capped at a solid number two receiver for any offense.  He will be a great red zone threat for his quarterback.  He's not afraid to get his nose dirty and do the little things necessary to win.
Dynasty Foresight
As it stands right now, JJAW is being drafted 16th overall and the 8th receiver off the board according to March rookie mock drafts per DynastyLeagueFootball.com.  This is an appropriate spot for him to be in.  I currently have him ranked as my 7th overall wide receiver and my 13th overall prospect.  Stanford's pro day is April 4th, so it'll be interesting to see what drills he participates in and how he tests.  I think he's a safe pick right now who will continue to drop in ADP as the draft gets nearer.  Nobody seems to talk about him, and I get it — he's not a "sexy" prospect.  He's safe, and I'll take safe toward the middle or late part of the second round all day.
THANK YOU FOR READING. YOU CAN READ SOME OF MY OTHER WORK AND THOUGHTS ON TWITTER @JaredWackerlyFF. FOLLOW FFSTATISTICS ON TWITTER @FFSTATISTICS_.  PLEASE CHECK OUT EVERYTHING THAT FFSTATISTICS HAS TO OFFER.  FIND MORE OF MY PROSPECT BREAKDOWNS AND OTHER ARTICLES FROM THE FFSTATISTICS WRITING STAFF HERE.  LISTEN TO THE FFSTATISTICS FAMILY OF PODCASTS HERE. STAY TUNED FOR MY NEXT PROSPECT PROFILE!