Jace Sternberger: Fantasy Scouting Report
One of the most exciting tight end prospects in this draft class is not getting enough love. A physically dominant threat after the catch, Jace Sternberger will be a regular highlight maker.
School: Texas A&M
Height: 6-foot-4
Weight: 251 pounds
D.O.B: N/A (age 22)
Jace Sternberger originally enrolled at Kansas but decided to transfer after a quiet redshirt freshman season. He got the attention of numerous programs with a strong season at JUCO Northeastern Oklahoma A&M. He received various offers including one from new SEC coach Jimbo Fisher at Texas A&M. Sternberger exploded as a redshirt junior leading his new team with 48 receptions, 832 yards, and 10 receiving touchdowns.
Jace Sternberger is a talented tight end who could be in the day one mix in a different draft class. A day two prospect in this particular class, he is a strong receiver who is physically dominant after the catch. He could quickly become young quarterbacks go-to option in the middle of the field and the red zone. These are places he can utilize his size, route running skills, and strong hands.
How does he stack up to other tight ends
Jace Sternberger is a year older than most of the other top names at his position, but was as, if not more dominant than all of them. He had the most touchdowns by any tight end in college football this past season and was a terror after the catch.
These plots show how Sternberger compared to the other top tight ends in this class, as well as Riley Ridley. His market share for receptions and touchdowns are competitive with anyone in this class, highlighting his true upside.
Game Tape
One of the most exciting plays I've watched reviewing #NFLDraft prospects was from a tight end. His name is @_JStern Jace Sternberger. pic.twitter.com/hNSi2oZBA7

— Raju Byfield (@FantasyContext) January 28, 2019
This is the play I will show anyone who says they do not know enough about Jace Sternberger. He literally drags the poor defender 27 yards downfield. Plays like this are the type that can get any evaluator extremely excited about his NFL upside. A powerful runner with great yards after catch skills, Sternberger averaged 8.3 yac/per reception in 2018.
This play shows off Jace Sternberger's ability as a downfield receiver. He attacks the ball in stride, and picks up an extra ten yards after the catch. pic.twitter.com/R2VrcemY1r

— WinMyFantasyLeague (@fantasysportdoc) March 18, 2019
This play shows off Jace Sternberger's ability as a downfield receiver. Sternberger posted a solid 60.6 catch rate on the season, functioning as his teams top target. He led the SEC in first downs with 37.
On this play Sternberger shows off his solid route running skills as well as an ability to catch in traffic. He gets separation thanks to using good stem at the top of his route. He shows off his balance, bend, and ankle flexion. These abilities could allow him to become a top tier route runner at the next level. He posted a strong 2.03 yards per route run on the season, highlighting his true upside as a receiver.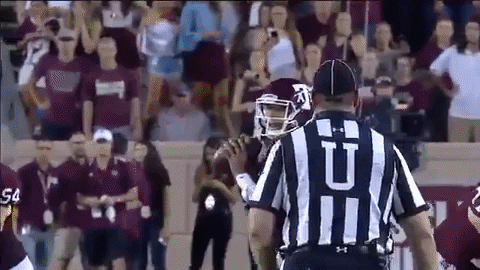 On this play, Sternberger hauls in the tipped pass. His concentration and spatial awareness are key here, as he is able to quickly evade the first tackle. He then stiff arms an overmatched defender on his way to the end zone. And of course, this is another great example of his exciting ability after the catch.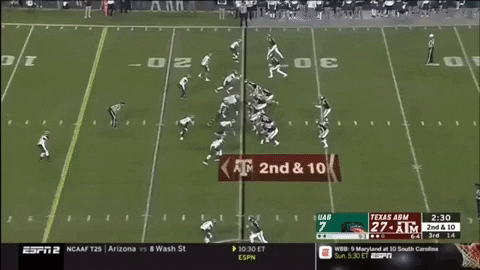 Sternberger once again shows off his downfield chops on this play. He hauls in one of his tight end leading ten touchdowns. Sternberger was also number two in receiving yards, thanks to a massive 17.1 yards per reception. Perhaps even more impressive, that number jumped to 18.2 yards per reception on third and fourth down.
Blocking Game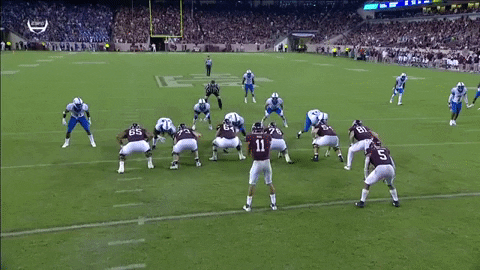 This play shows off his ability in the run game. He identifies and seals off the free rusher, and provides the space Trayveon Williams need to break this run off for a big gain. If he whiffs on this block, this is a stop or a tackle for loss. Plays like this ensure Sternberger will be on the field for the majority of his teams snaps.
On this play Jace Sternberger helps on the double team on Bryson Allen-Williams. The technique can be refined, but the desire and physicality are notable on this play. pic.twitter.com/snbE9ebdUS

— Ankh Heru Hannibal Ra (@HeruRaSports) March 18, 2019
This block shows off his ability in the passing game. Ideally, you do not want someone you drafted for his receiving skills staying home too often, but he does present some upside in block and release concepts. On this play he double teams South Carolina's best edge rusher and slows him down sufficiently. This is not the best example of sound technique, as he is using his body and not his hands. However, he gets the job done with effort, determination, and physicality. The technique can be taught and gives him the opportunity to be an every-down tight end.
Pro Comparison
The tight end Jace Sternberger reminds me the most of is Kyle Rudolph. Sternberger looks slightly more athletic on film, while Rudolph tested with better short area quicks. First, let's take a look at their per game college stats in their final seasons.
Jace Sternberger: 3.69 receptions, 64 yards, 0.77 touchdowns, 17.3 yards per reception

Kyle Rudolph: 4.6 receptions, 54.66 yards, 0.5 touchdowns, 11.7 yards per reception
Despite seeing less receptions per game and playing in the SEC, Jace Sternberger had a superior junior season. He had better numbers in every other category, and his numbers back up the explosiveness you see on tape.
As far as athletic testing is concerned Sternberger measures 2 inches shorter but only seven pounds lighter. He ran a 4.75 40, while Rudolph ran a 4.88 giving Jace the speed score edge 98.1 to 92.9. Rudolph appears to have more fluidity in his hips as he beat out Sternberger 116.9, and 11.61 to 111.6, and 11.50, in burst score and agility score respectively.
Both tight ends are big bodied targets with massive upside as receivers. While Kyle Rudolph has only shown flashes in his career, he has been in the TE1 mix for the past several years. His highs as a pro likely represent Jace's ceiling. However, that could change if he lands on a team with a young QB he can grow with or an elite one that will have him playing at a pro bowl level as a rookie.
Dynasty Projection
As is always the case his pro projection ultimately comes down to the landing spot. Here is what I can tell you now. He will in all likelihood be drafted to start immediately. If he lands on the right team he can become a top three tight end in this class. He is my number four ranked tight end in this class for both dynasty, and the actual NFL Draft. His draft floor is the third round, but he is looking more and more likely to go in the mid to late second round.
In dynasty leagues, Jace Sternberger should be the fourth tight end off of the board. Other names like Caleb Wilson and Dawson Knox will likely be considered by others, but if you are reading this you likely know better. Sternberger profiles as a double-digit touchdown threat, who will dominate after the catch. He may never be George Kittle, but he has the skills to give him a run for his money in the YAC department. This is especially true as the 49ers continue to add more weapons.
Jace Sternberger is currently going in the late third to mid fourth in most rookie drafts. With that said, there are some rookie drafts in which he is going undrafted. This is bound to change in the coming months but goes to highlight the advantages of drafting early. Consider him a future TE1 who could break out earlier than expected due to age. You may not yet know Jace Sternberger's name, but you have to respect his game.  
THANK YOU FOR READING. YOU CAN READ SOME OF MY OTHER WORK AND THOUGHTS ON TWITTER @FANTASYCONTEXT. FOLLOW FFSTATISTICS ON TWITTER

 

@FFSTATISTICS_. PLEASE CHECK OUT EVERYTHING THAT

 

FFSTATISTICS

 

HAS TO OFFER. NEW STATISTICS AND DATA ARE BEING ADDED CONSTANTLY. FIND MORE OF MY PROSPECT BREAKDOWNS AND OTHER ARTICLES FROM THE FFSTATISTICS WRITING STAFF

 

HERE. LISTEN TO THE FFSTATISTICS FAMILY OF PODCASTS

 

HERE. STAY TUNED FOR MY NEXT PROSPECT PROFILE!