Parris Campbell: Fantasy Scouting Report
An electric speedster who can also dominate on short passes and sweeps, Parris Campbell should be generating some more dynasty love. He is a modern NFL receiver who can produce at all four levels. Remember his name come your rookie draft nights.
School: Ohio State
Height: 6-foot-0
Weight: 205 pounds
D.O.B: 7/16/1997 (age 21)
From Akron, Ohio's St. Mary St. Vincent high school, Campbell is a burner with electric speed. An exciting receiver who chose to stay in state and play under Urban Meyer at Ohio State, Campbell did receiver offers from some other notable programs including Tennessee and Michigan State.  Campbell showed some flashes in his sophomore and junior seasons but truly exploded as a senior. He racked up 90 receptions for 1,063 yards and a team-leading 12 touchdowns. Campbell also paced the Buckeyes with 6.4 receptions per game and was the yardage and target leader.
Routes
One of the biggest talking points when it comes to Campbell as a prospect is the volume of shorter routes he ran. As per draftace via SIS we can see that he was targeted on screens, outs or jet sweeps 45 percent of the time. These routes accounted for 49.5 percent of his total receptions. This, however, is as much, if not more of, a function of the offensive scheme at Ohio State. Campbell possesses game-breaking speed so Meyer astutely found ways to manufacture touches for his star receiver.
Game Tape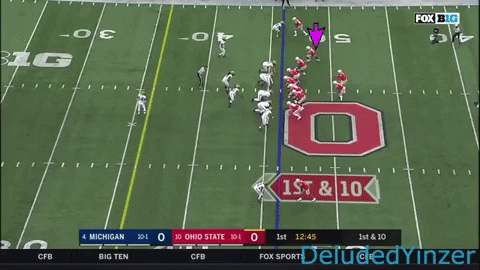 This is one way Campbell will shine at the next level. On this play, the threat of his deep speed helps him create instant separation. He snares his target in stride and proceeds to outrun the defenders to the first down marker. As mentioned above Campbell saw a high volume of short passes for Ohio State.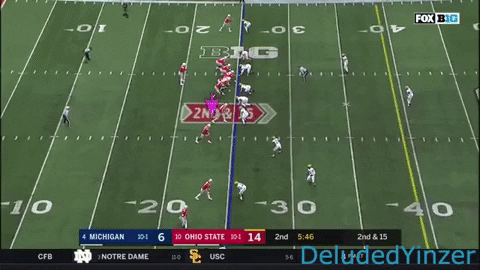 This play highlights his ability in the open field. While he is in no way has running back level moves, Campbell is very adept at making defenders miss. He leaves three defenders on the back of their heels en route to a 25 yard gain.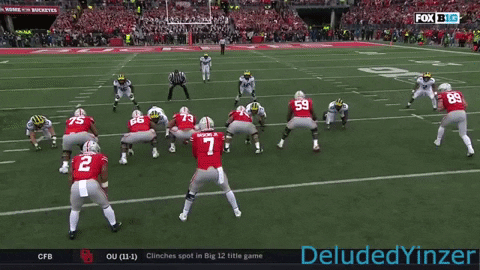 On this play, Campbell takes a simple drag route 30 yards. This play helps to highlight his tremendous ability after the catch. Campbell ranked seventh in the nation with 8.9 yards after catch per reception. Plays like this are the reason why he was used on short routes so often.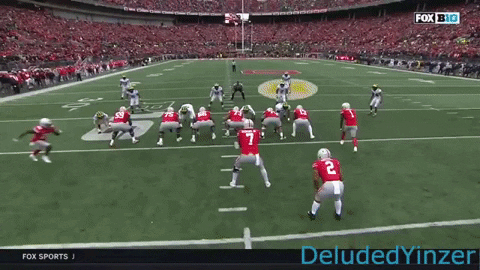 This play shows off Campbell's elite 4.31 wheels on the end around. He has game-breaking ability and takes this one to the house. A home run hitter in the truest sense, Campbell was good for 22 plays of over 20 yards in 2018. He also ranked fourth in the nation with three plays of over 60 yards receiving.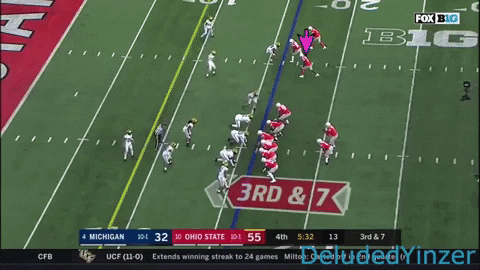 This play shows off Campbell's chops in the red zone. He creates quick separation and hauls in the Dwayne Haskins fade route for a score. Campbell had a stellar 139.2 passer rating when targeted, a number that places him seventh in the nation. Plays like this coupled with his equally impressive 82 percent catch rate help explain why.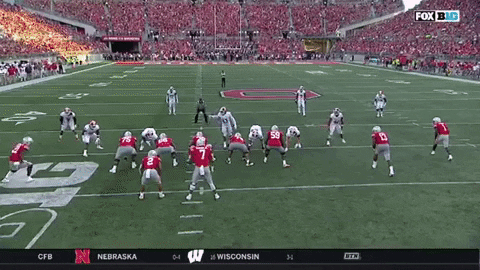 This is the type of play that accentuates what a creative play caller can do with a dynamic weapon like Campbell. He is put in motion, hauls in the quick pass and takes it 71 yards for the score. Two key blocks spring him loose and true to his sprinter background he is off to the races. Campbell posted an impressive 3.47 yards per route run on the season.
Everyone knows that Campbell can dominate after the catch on short throws, but he can do damage downfield as well. This play against Tulane highlights some of his upside in that department. #NFLDraft #NFLDraft2019 #DraftTwitter pic.twitter.com/P7IWfBnHER

— Raju Byfield (@FantasyContext) March 25, 2019
This play shows off Campbell's ability to win as a downfield receiver. He hauls in this 38-yard pass from Haskins for the score. Explosive plays like this from the slot help explain Campbell's sterling 3.44 yards per slot route run.
Player comparison
The player Campbell may remind you of the most is New York Giants receiver Golden Tate. It is not a perfect comparison as Campbell has superior speed, while Tate is more physical. However, they are likely to be utilized very similarly in the NFL. Campbell will likely start his career collecting the bulk of his receptions on short and horizontal routes. He has been the subject of some scrutiny due to his aforementioned route tree and paltry 4.5 aDOT. One should take note, however, that Tate sported a 6.5 aDOT in 2018 and just struck it rich in free agency. Let's take a look at their combine times and college production.
Tate: 93 receptions, 1,496 yards, 15 TDs, 16.1 yards per reception

Campbell: 90 receptions, 1,063 yards, 12 TDs, 11.8 yards per reception
Tate was a much more prolific receiver in college from both a raw stats and percentage standpoint. Tate had more receptions, yards, and touchdowns than Campbell in their final college seasons. As the graph below depicts, Tate also had a much more impressive market share.
We included Michael Thomas on the graphs due to the quote below:
"Urban (Meyer) has a system and it works, but it makes it harder to evaluate his receivers. Mike Thomas was just okay in their offense and then he gets to the pros and he's great. Campbell is kind of raw, but that same thing could happen with him." — Personnel executive for AFC team
Source: NFL.com
As the quote alludes to, even a stud wide receiver like Thomas did not truly stand out under Meyer. Thomas put up an uninspiring 56-781-9-13.9 line as a redshirt junior. This should help appease any concerns that Campbell did not have a larger market share. This specific offense has produced outliers in recent memory and is likely to do so once again with Campbell. When one considers Haskins led the nation with 4,838 passing yards and 50 touchdowns there is even more reason to be bullish on Campbell. Achieving the baseline market share when half of his receptions came on short routes would have been a difficult task.
Dynasty Projection
Parris Campbell landed in the perfect spot for his dynasty value. He landed on a team that will looking to utilize him on short routes to take advantage of his ability after the catch. With T.Y. Hilton already in town as the established deep threat, Campbell will see a varied route tree. He will still be asked to go deep to keep defenders from constantly pressing, but will be able to hone his downfield skills at his own pace. Campbell projects as the Colts number two and could pay immediate dividends as an upside WR2/WR3. His long term upside is a WR2 as long as Hilton is in town.
Campbell is an interesting case in trusting the tape. One of the more divisive wide receivers in the draft, Campbell came off of the board before names people had at the very top of their rankings in D.K. Metcalf and Hakeem Butler. He lasted until the third round of our FFStatistics February mock and to 2.8 in our March mock.
Making matters all the more perplexing, he lasted until the second round of our post NFL Draft rookie mock. This however was my fault. In an attempt to 'know my draftroom' I rationalized that since I knew only one other in the mock had any love for Campbell pre-combine, that I would still likely be able to get him at a deep discount in the second. Even though I was ready to take him in the first, I had to make a roll of the dice. My gamble was that Benny Snell who landed a starting opportunity in Pittsburgh would be higher on the radar of my colleagues. Based on the reactions to my pick he was not, and taught me I could not only wait on him in our FFStatistics dynasty start-up, but other rookie drafts I had in the near future.
Campbell is ranked as high as 1.02 by some notable fantasy analysts, and is sure to see his stock explode in the coming months. He is already eighth in terms in mock draft ADP. He was the second rookie receiver taken in our dynasty startup draft. This makes it imperative that you are aggressive to avoid missing out on your target. A pick between 1.03 and 1.08 should be enough to land him in most drafts. Parris Campbell is another kid from Akron, Ohio who is ready to ball.
THANK YOU FOR READING. YOU CAN READ SOME OF MY OTHER WORK AND THOUGHTS ON TWITTER @FANTASYCONTEXT. FOLLOW FFSTATISTICS ON TWITTER

 

@FFSTATISTICS_. PLEASE CHECK OUT EVERYTHING THAT

 

FFSTATISTICS

 

HAS TO OFFER. NEW STATISTICS AND DATA ARE BEING ADDED CONSTANTLY. FIND MORE OF MY PROSPECT BREAKDOWNS AND OTHER ARTICLES FROM THE FFSTATISTICS WRITING STAFF

 

HERE. LISTEN TO THE FFSTATISTICS FAMILY OF PODCASTS

 

HERE. STAY TUNED FOR MY NEXT PROSPECT PROFILE!