Elijah Holyfield: Fantasy Scouting Report
Elijah Holyfield: Fantasy Scouting Report
One of the most hotly debated prospects at his position, Elijah Holyfield still intrigues. His game tape is rock solid but his testing numbers have left room for doubt. Holyfield was one of the top backs in the country for a reason.
School: Georgia
Height: 5-foot-10
Weight: 217 pounds
D.O.B: 11/30/1997 (age 21)
As you may have noticed Elijah has the last name Holyfield. Elijah is indeed the son of former undisputed heavyweight champion of the world, Evander Holyfield. It may sound like this is a bloodline dreamed up in Madden's franchise mode. But this is the 'Real Deal'. A four-star recruit, Georgia and Auburn were the favorites to land his services. He also received offers from other exciting programs such as Alabama, Wisconsin and Ohio State. Like many of the skill position players in this draft class, he chose to stay in state and selected the Georgia Bulldogs.
Holyfield was an afterthought in his freshman and sophomore seasons at Georgia as he saw only 58 touches combined. Playing behind Nick Chubb, Sony Michel, and D'Andre Swift, Holyfield finally saw a role increase as a junior. With Chubb and Michel departed to the NFL, Holyfield became the lesser half of a committee with D'Andre Swift. Holyfield posted an impressive 1,018 yards rushing and 7 touchdowns at a 6.4 yards-per-carry average. His low reception count (5) has been a talking point, but let us remember that Nick Chubb had only four in 2017, and Sony Michel nine. D'Andre Swift was the receiving back even with NFL starters on the roster.   
Game Speed vs Track Speed
As many of you may know by now Elijah Holyfield tested very poorly in the 40-yard dash. His 4.78 time was incredibly disconcerting for a player many had pegged as a potential difference maker in the NFL. The question remains is how much stock to put in a prospects 40-time. Game tape and college production analytics are the key evaluation tools. The combine and pro days are just meant to complement the evaluation process and can be used to separate similarly ranked prospects.
Another major discussion point is the importance of game speed versus track speed. The 40-yard dash is not an end all, be all for a prospects success in the NFL. Anquan Boldin is likely headed to the Hall of Fame and ran a 4.77. LaGarette Blount ran a 4.7 and only went undrafted due to off field issues. He has been a productive NFL back with a surprising burst. Alfred Morris ran a 4.67 and is 15th all time with 100.8 rushing yards per game over his first two NFL seasons. Mark Ingram ran a 4.62, and like Alfred Morris is a two-time pro bowl running back.
Game Tape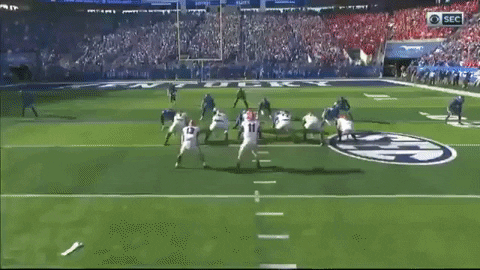 Holyfield shows off good bend and ankle flexion on this play. He displays patience and top level cutback ability. A decisive runner with good feet, these are the types of plays he can make his bread and butter. If he lands behind a good offensive line he can exceed all expectations.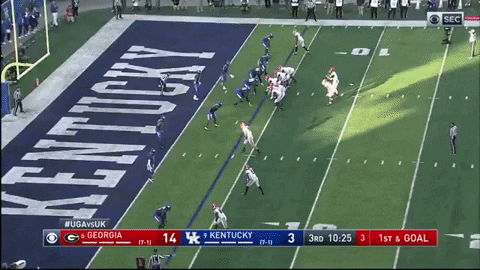 Elijah Holyfield is sure to have his naysayers. However, even those who doubt his upside have to be impressed by the power and contact balance shown here. He powers his way through a would be tackler and shows that at the very least he can be an upside short yardage and goal line back. Holyfield forced 31 missed tackles in 2018.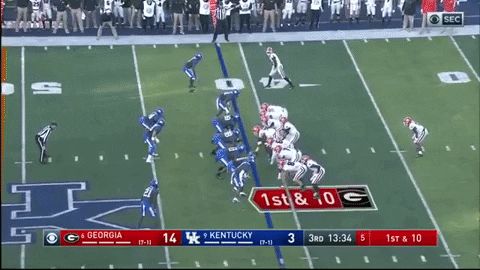 He may not have track speed but he certainly has game speed. Holyfield sees a hole on the edge and outraces the defender for a 30 yard gain. Holyfield had more 30-yard runs than Mike Weber (4.47).
Elijah Holyfield uses his game speed to get to the edge against Alabama. He profiles as an in between the tackles grinder, but a bulk of his big runs were of the edge variety. #NFLDraft #DraftTwitter #DraftSZN pic.twitter.com/NzMMe4BDs5

— Raju Byfield (@FantasyContext) March 29, 2019
Holyfield once again uses his game speed to get to the edge and pick up a breakaway run. His seven runs of over 20 yards are more than Josh Jacobs and Alexander Mattison had combined.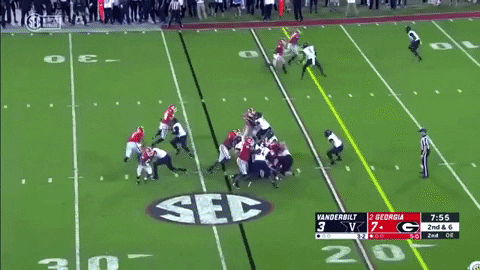 Holyfield displays burst and athleticism on this play. He uses his speed to get to the edge and uses his athleticism to dive for the pylon while staying inbounds. 31 percent of Hoyfield's carries went for a first down or touchdown.
Holyfield is able to show off his power and contact balance on this run. He slips the first tackle and puts a subsequent defender on his back with a powerful truck move. Holyfield posted 650 yards after contact for 4.09 yards after contact per attempt.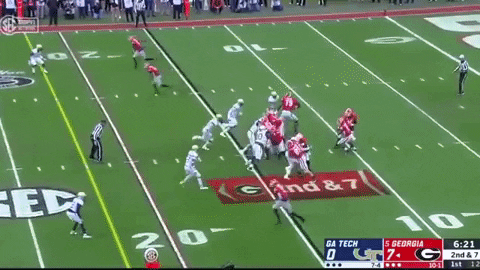 This play from Holyfield against Georgia Tech is notable because he takes it up the gut, before bouncing it to the outside. He shows off his plus vision and his undeniable in-game burst. Don't let the combine fool you, Holyfield is for real.
Pro Comparison
Though both tested with better straight line speed, the players Elijah Holyfield reminds one the most of are Nick Chubb and Mark Ingram. Nick Chubb is an easy comparison as they both played for Georgia. Mark Ingram in the Alvin Kamara era is the closest comparison to what to expect from Holyfield as a pro. As mentioned above, Mark Inngram is a player who also tested poorly at the NFL combine. 4.62 is a much cleaner 40 time than 4.78, but both are times that would hurt the draft stock of most prospects. Let's take a look at their per game and carry production in their best college season.
Ingram: 118.42 rushing yards, 6.1 ypc, 15.94 carries per touchdown
Holyfield: 72.71 rushing yards, 6.4 ypc, 22.71 carries per touchdown
Ingram, however, was more proven as a receiver at the college level. Ingram recorded 7, 32, and 21 receptions in his freshman, sophomore and junior seasons respectively. Holyfield recorded seven total in his entire college career. Ingram was better as a runner as far as carries per touchdown but recorded slightly lower yard- per-carry. Holyfield will likely start out in a committee to start his career in much the same way Ingram did. This should not prevent him from becoming a factor in fantasy leagues, especially since he profiles as the goal line back in most landing spots.
Dynasty Projection
Projecting a players value before knowing where he will land, and his inherent draft capital can be a difficult task. Holyfield likely knocked himself down into the day three conversation with his poor pro day and combine. He can still be a productive pro, but he may have to fight his way up the depth chart. Holyfield is shaping up to be someone who may hear his name called in round six. Holyfield may settle in as a committee back who vultures a roster worthy amount of touchdowns.  
If you are targeting Holyfield in your dynasty rookie draft you may have to spend a third or fourth round pick. Holyfield was selected in the second round of our FFStatistics February mock but went undrafted in our March edition. His name was called in the third and fourth rounds of two DLF mock drafts I participated in March. His average rank according to our FFStatistics rookie rankings is 29.1. Holyfield projects as having flex upside in his rookie season. As his role continues to grow he profiles as having borderline RB2 value. Holyfield will likely never be a workhorse in the NFL, but he is someone who can threaten double-digit touchdowns. Game speed trumps track speed in the NFL, don't sleep on Elijah Holyfield.
THANK YOU FOR READING. YOU CAN READ SOME OF MY OTHER WORK AND THOUGHTS ON TWITTER @FANTASYCONTEXT. FOLLOW FFSTATISTICS ON TWITTER

 

@FFSTATISTICS_. PLEASE CHECK OUT EVERYTHING THAT

 

FFSTATISTICS

 

HAS TO OFFER. NEW STATISTICS AND DATA ARE BEING ADDED CONSTANTLY. FIND MORE OF MY PROSPECT BREAKDOWNS AND OTHER ARTICLES FROM THE FFSTATISTICS WRITING STAFF

 

HERE. LISTEN TO THE FFSTATISTICS FAMILY OF PODCASTS

 

HERE. STAY TUNED FOR MY NEXT FANTASY SCOUTING REPORT!