Alexander Mattison: Fantasy Scouting Report
An exciting jump cut runner known to leap oncoming defenders in a single bound, Alexander Mattison is a hard hitting back with good explosion. Mattison was impressive at Boise State as both a runner and a receiver. How well does his game translate to the NFL?
School: Boise State
Height: 5-foot-11
Weight: 221 pounds
D.O.B: 6/19/1998 (age 20)
Alexander Mattison is a 5'11, 221 lbs., running back from Boise State. The running back had several offers to consider coming out of high school. He received offers from San Diego State, Colorado State, Washington, and Arizona State. Mattison showed off a well rounded skill set during his college career, and finished with over 3,300 career yards from scrimmage.
Mattison has two solid seasons of production behind him. He averaged 5.1 yards per carry, running for 1,086 yards and 12 touchdowns in 2017. He followed that up with 4.7 yards per carry, and 1,415 and 17 touchdowns in 2018. Mattison displayed good hands during his college career, and racked up 55 receptions and 457 yards receiving over his two seasons as a starter.
Numbers vs Power Five
Evaluating a non power five prospects numbers against the stronger conferences is a helpful tool. Mattison had only one game against a power five school in 2018, and put up 58 yards from scrimmage on 14 touches. 3.79 yards per carry is nothing to write home about, but is slightly more impressive when one takes context into account. One, this is against a power five team in Oklahoma State, when Boise has nowhere near comparable talent. Two, Boise State's line is 57th in Football Outsiders line yards. Not exactly world beaters as far as the offensive line is concerned.
Game Tape
As mentioned in our breakdown of Elijah Holyfield, game speed trumps track speed. Mattison improved his 40-time at his pro day and shows his explosiveness on this play. Mattison shows off his burst, as well as some wiggle en route to a 40 yard score.
He is also surprisingly fluid. I love how he doesn't just cut for effect, but makes his movements to get from A to B in any efficient way possible pic.twitter.com/JJjAE7mZfx

— Dynasty Price (@DynastyPrice) March 26, 2019
Alexander Mattison is a power back through and through. However, seeing insane athleticism like this suggests he is more naturally explosive than his combine suggested. Mattison makes multiple cuts, evades defenders, and then proceeds to hurdle the last defender on his way to the end zone. His hurdles are sure to get anyone excited, and he should be a fun one to watch on Sundays.
Contact Balance
When evaluating power backs there are some traits you look for. Contact balance and the ability to fight through tackles top the list. Mattison proves he can do just that and more on the play below. Move the pile ability is among the most exciting traits power backs present. The Troy defenders are no match for his strength and determination on this play. Mattison posted an impressive 862 yards after contact in 2018.
Once again Mattison hits the hole hard, runs through arm tackles and falls forward. pic.twitter.com/4sI2MS1XCT

— Dynasty Price (@DynastyPrice) March 26, 2019
This is a simple 14 yard gain. However Mattison makes it impressive with his contact balance and display of power. This evaluator is a power back guy at heart. Witnessing Mattison truck, and then drag the poor Air Force defender seven yards on the play above is a thing of beauty.
And although his top end speed truly is a concern of mine, he clearly has enough juice to break one from time to time. pic.twitter.com/ciTAos87mi

— Dynasty Price (@DynastyPrice) March 26, 2019
Mattison did answer long speed concerns with a 4.52 at his pro day. Film junkies already knew he had game speed. Plays like the one above justify that. He had 37 runs of over ten yards in 2018. This is a number only six backs in this class topped. This is the same number as Miles Sanders, and is more than Justice Hill, Josh Jacobs, and Damien Harris.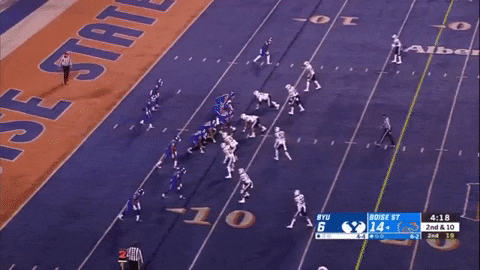 On this play we can see Mattison take a swing pass 15 yards. He once again shows some solid burst. This could have gone for a much longer gain if he did not run out of 'real estate'. As mentioned earlier, Mattison is a capable receiver who caught 55 passes in his two years as a starter.
Pro Comparison
The running back Alexander Mattison appears the most similar to is Latavius Murray. Mattison did not test as well athletically, but is a big back that shows athleticism on tape. Both Murray and Mattison have solid upside as receiving backs, and profile the best in committee roles. If called upon both backs can handle heavy workloads and function as a teams workhorse.
There is not much of a comparison based on the aforementioned athletic testing so we will move past that as a discussion point. Let's take a look at their production in their best college seasons.
Mattison: 4.7 yards per carry, 17.76 touches per touchdown, 108.84 yards per game, 2.07 receptions per game

Murray: 5.6 yards per carry, 13.2 touches per touchdown, 100.54 yards per game, 2.54 receptions per game
It is clear that Murray was not only a superior athlete, but that he profiled better on both a per touch, and a per game basis. In that vein, Alexander Mattison looks more like a Latavius Murray lite. Mattison is less athletic and was not as productive with his touches, but still has a chance to carve out a similar pro career.
Dynasty Projection
As is often the case projecting an NFL prospects value before they get drafted can be difficult. Mattison looks to be in the late day two/day three range as far as expected draft pick, but could still be drafted to play an immediate role. Mattison will likely be looked at as an ideal power complement to a smaller back who offers more as a receiver. Teams he has garnered interest from thus far include the Indianapolis Colts, Chicago Bears, and New Orleans Saints. These three teams would likely be interested in Mattison for a power back complementary role. Interestingly the Cowboys also showed some interest. This suggests that some NFL teams may view Mattison as a spot starter with a complete package of skills.
Dynasty Value
Mattison could either be a flex/flex2 or a high upside handcuff depending on the situation he is drafted into. On the Colts he would become the power complement to Marlon Mack and Nyheim Hines. However he would be in a three way committee, and would not have much value outside of touchdown heavy leagues. On the Bears he would play the same role behind Tarik Cohen, but would be stuck behind Mike Davis for at least a year. The situation would be much the same in New Orleans with Alvin Kamara the starter, and Mattison likely to be stuck behind the player we compared him to in Latavius Murray.
If you have designs on landing Mattison in your rookie draft you may have to surrender a third or fourth round pick. Mattison went in the second round of our FFStatistics February mock draft, but fell to the third in our March edition. If Mattison is a must have for your dynasty team, consider trading into the back half of round two or early round three. Mattison should be able to carve out a successful NFL career, and may be getting slept on by rival managers who do not pay attention to pro day times. Take advantage while you can.
THANK YOU FOR READING. YOU CAN READ SOME OF MY OTHER WORK AND THOUGHTS ON TWITTER @FANTASYCONTEXT. FOLLOW FFSTATISTICS ON TWITTER

 

@FFSTATISTICS_. PLEASE CHECK OUT EVERYTHING THAT

 

FFSTATISTICS

 

HAS TO OFFER. NEW STATISTICS AND DATA ARE BEING ADDED CONSTANTLY. FIND MORE OF MY PROSPECT BREAKDOWNS AND OTHER ARTICLES FROM THE FFSTATISTICS WRITING STAFF

 

HERE. LISTEN TO THE FFSTATISTICS FAMILY OF PODCASTS

 

HERE. STAY TUNED FOR MY NEXT FANTASY SCOUTING REPORT!