Marquise Brown: Fantasy Scouting Report
Marquise Brown is a speed demon who can stretch the field and excel after the catch on short and intermediate routes. He arguably has the most talent of any wide receiver in this class, but his 166 pounds weigh-in has held him back from top billing. Are we being sizeists?
School: Oklahoma
Height: 5-foot-9 3/8 inch
Weight: 166 pounds
D.O.B: 6/4/1997 (age 21)
Weighing in at only 130 pounds coming out of high school, Brown started his college career at JUCO, College of the Canyons in California. He spent a year there before receiving offers from Oklahoma, West Virginia, Arizona State, Missouri, and Oregon. Brown chose wisely as he was able to catch passes from two consecutive Heisman trophy winners. First cousins with Oakland Raiders wideout Antonio Brown, Marquise has football royalty bloodlines.
Marquise stepped right out of junior college to catching passes from last year's first overall pick Baker Mayfield. Incredibly, Brown led the Sooners in the yards receiving department for two years straight. Brown posted 57 receptions, 1,095 yards, and 7 touchdowns in his first season at Oklahoma. He followed that up with 75 receptions, 1,318 yards and 10 touchdowns in 2018. Incredibly, 52 of his receptions went for a first down or touchdown. If Brown were an inch taller and 12 pounds heavier, he would be the consensus top receiver in this class. His film is that good. He has muscle in his upper body but has room to add some weight via his legs.
Game Tape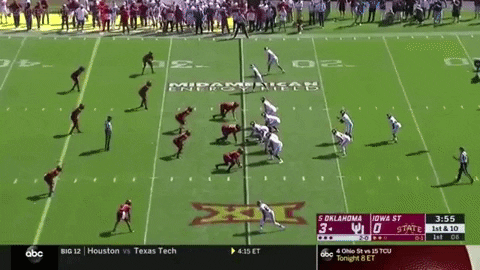 The first thing that comes to mind when discussing Marquise Brown is his deep speed. He shows it off on this 75-yard touchdown versus Iowa State. If Brown lands with a quarterback that can drop dimes like Kyler Murray was able to do here, we could be looking at an instant WR1. Brown had an incredible 592 deep receiving yards in 2018, good for sixth in the nation. Brown led the nation with eleven 40+ yard plays, seven 50+, and four 60+ yard plays.
I asked Marquise Hollywood Brown about the possibility to playing with Antonio Brown. His answer:

(🔊 audio in clip) pic.twitter.com/TLXNPqK5B9

— Ted Nguyen (@FB_FilmAnalysis) April 13, 2019
Marquise Brown has punt/kick returner skills with the ball in his hands. His speed and open field moves are both on display here. He shows off outstanding footwork evading defenders, and also slips two tackles. Strength is one of the ongoing discussion points when it comes to Brown, so the physicality he shows here is a major plus. Explosive plays like this helped Brown to a 3.56 yards per route run on the season (fifth in the league) mark. Marquise Brown forced an impressive 17 missed tackles for Oklahoma.
Ted's Film Room: Top five 'shifty' receivers rankings

Spoiler Alert*

1. Marquise Brown- The man moves in fast forward while everyone else is in real-time speed.

Read: https://t.co/BzoECGN9h8 pic.twitter.com/PnomQ1vFcp

— Ted Nguyen (@FB_FilmAnalysis) April 5, 2019
Brown carves up the WVU defense on this option route. Anyone who tells you he will not have success in the NFL has not watched his tape. He gets the safety to stop in his tracks and then turns on the jets to find massive separation in the endzone.
Yards after catch
Marquise "Hollywood" Brown – A Thread

Let's start here, Brown is not John Ross. I get that people want to lump them together because of size and speed, however, Brown knows how to win in other ways than straight track speed. On this route he wisely sits in the… cont. pic.twitter.com/N62SdTUW7Y

— Dynasty Price (@DynastyPrice) April 12, 2019
Marquise Brown shows off his explosion on the in route. Short passes taken for big gains like this helped Brown place seventh in the nation with a 135.1 passer rating when targeted. He hauled in 72.8 percent of his targets on the season. Being able to destroy zone coverage like this is a big reason why.
If you take a bad angle on Brown, you're toast because he's what scouts call "STUPID FAST". That first step is lethal. pic.twitter.com/y1AxzwEfei

— Ted Nguyen (@FB_FilmAnalysis) March 29, 2019
Brown is deadly once again on this play. He takes a ho-hum Murray pass from behind the line of scrimmage and turns it into a big play. Brown is this draft classes premier home run hitter and plays like this highlight that. His 8.5 yards after catch per reception placed him tenth in the nation. This play was over as soon as the poor Baylor defender took a bad angle. Brown eats up 50 yards with the casualness of a morning jog. Brown posted 632 yards after the catch in his final college season.
Pro Comparison
The name that immediately comes to mind when discussing Marquise Brown is DeSean Jackson. Both were billed as undersized, but both boast game-changing first round talent. Jackson measured as 6-foot-0 and 178 pounds coming out of college. His 4.35 speed is in line with what most expected Brown's floor in the 40 to be. Despite weighing 12 pounds heavier than Marquise, D-Jax was still hit with noted size concerns. Both were productive and polished enough in college to warrant first-round consideration. Let's take a look at their college market shares.
As we can see Jackson had a lower breakout age, while Brown had the superior final college season. Brown going the JUCO route does muddy our comparative analysis a bit, but it is clear that Jackson was every bit as stellar as Marquise. Let's take a look at their per game numbers in their best college seasons.
Marquise: 6.25 receptions, 109.83 yards, 0.83 touchdowns, 17.6 yards per reception

DeSean: 4.53 receptions, 88.33 yards, 0.75 touchdowns, 18.0 yards per reception
DeSean Jackson and Marquise Brown are interesting comparisons. Both boasted first round talent and have similar games. Beating you deep with electric speed is the hallmark of Jackson's game, and while Brown will prove to be almost equally adept, it is his versatility that will allow him to truly shine. Brown can dominate after the catch, downfield, as well as on horizontal, short, and intermediate routes. Jackson is better downfield due to his superior skills as a contested catch winner and similarly provides more value on special teams. Brown may prove much more dominant with the ball in his hands, particularly on shorter passes where he can take advantage of his superior quickness. As evidenced by his 7.45 yards per slot route run, he can win not only on the outside but on the inside as well.
Dynasty Projection
Marquise Brown was the first wide receiver taken in the NFL Draft. He will not however be able to make the same claim in dynasty leagues. Landing with Lamar Jackson somewhat tempers his upside. With that said, in Baltimore he was drafted to be the number one receiver. While he could still claw his way into the WR1 conversation, it is more likely he becomes a mega upside WR2. He will be used on short passes as an extension of the run game, and should not be viewed as a traditional deep threat only receiver. This suggests he will have more weekly consistency than we usually expect from DeSean Jackson or John Brown types.
If you are intent on landing Marquise Brown, a pick anywhere in between 1.06 and 2.02 is suggested. He has a wide draft range as how high he is taken will depend entirely on your draft room. He is lasting until the second round of many drafts, but has also been taken in the first round starting at 1.06. Brown went 1.09 in our post-draft FFStatistics staff rookie mock. He should be one of the first 3-4 receivers off the board in your dynasty rookie drafts. He could still be the number dynasty producer from this class when all is said and done. Take advantage of this buy low drafting opportunity while it lasts.
THANK YOU FOR READING. YOU CAN READ SOME OF MY OTHER WORK AND THOUGHTS ON TWITTER @FANTASYCONTEXT. FOLLOW FFSTATISTICS ON TWITTER

 

@FFSTATISTICS_. PLEASE CHECK OUT EVERYTHING THAT

 

FFSTATISTICS

 

HAS TO OFFER. NEW STATISTICS AND DATA ARE BEING ADDED CONSTANTLY. FIND MORE OF MY PROSPECT BREAKDOWNS AND OTHER ARTICLES FROM THE FFSTATISTICS WRITING STAFF

 

HERE. LISTEN TO THE FFSTATISTICS FAMILY OF PODCASTS

 

HERE. STAY TUNED FOR MY NEXT FANTASY SCOUTING REPORT!